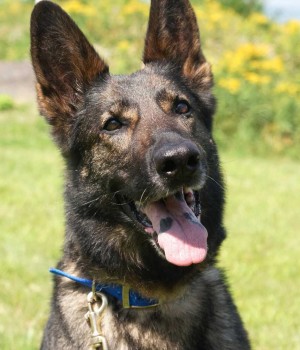 Status: Adopted
Age: 10 years (DOB 2/2/09)
Size: medium
Color: Sable
Sex: Female
Activity level: Medium
Good with other dogs: Yes
Good with cats: yes
Foster parents: Laurie R.
Sponsor Buddies:
Yard Fencing: Required
Click to View More Images.
Password: Jackie
Photos by: Loueen LaVallee

Jackie is a sweet senior girl, 11 years old when she came into GSRNE in June of this
year. Her owner had her for about 4 years and is now living in an assisted living
place, no dogs allowed; she was very concerned about finding a safe place for
Jackie before moving.
We were delighted to learn that Jackie loves cats, because we did have an
experienced foster home available, someone who also helps rescue kittens. It
took the older kittens some time to trust Jackie, but she took to them right away.
She is a calm girl and shows no concern about being around other dogs, but she
has shown no interest in playing with them.
Jackie does not like being alone, so her foster Mom has had to make some
accommodations for her when being away at work; daycare has proved to be a
real help. Her owner told us that a sudden loud noise or a thunderstorm can
cause Jackie to panic and lose some urine, so she would confine her to the kitchen
or crate when not home. In foster care, Jackie has not done well in a crate and
kept trying to break free; she has not been destructive when loose, once she is
used to everything.
It has taken Jackie months to adjust to this change in her life, and she is firmly
lodged in the affections of her foster Mom and the feline members of the family.
We are happy to report that Jackie has found her forever home and will not have
to make another adjustment at this stage of her life.