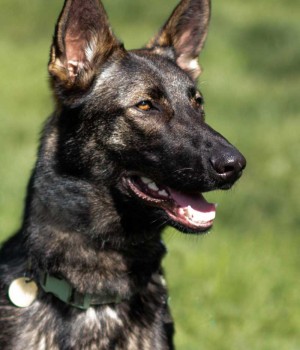 Status: Adopted
Age: 1 year (3/20/2021)
Size: Large
Color: Sable
Sex: Male
Activity level: Medium to High
Good with other dogs: Yes, with proper introduction
Good with cats: unknown
Foster parents: Diana T
Sponsor Buddies:
Yard Fencing: Required
Click to View More Images.
Password: Howie
Photos by: Lindsey Ward

Howie is a 1 year old male with lots of energy.  He enjoys spending time in the yard endlessly chasing a ball or playing with a toy.  Howie loves his long walks.  His foster mom has put a lot of work into his leash skills and he can walk down a trail ignoring people and other dogs.  He loved going on pack walks with other dogs in the woods when he stayed with a trainer friend of GSRNE while his foster mom was on vacation.  This time with the trainer also helped reinforce basic training and we saw what an extremely smart and energetic boy he is.  He is treat motivated and likes to be kept busy, he is certainly not a couch potato!  He is fostered with a senior female GSD and a senior large breed mixed male.  His energy can be a little too much for them at times, so he is sometimes separated from them to allow them quiet time.  We think he would do well in a home with another dog after slow introductions or do fine as an only dog.  He does have prey drive so we would not place him with cats.
Howie did not have much socialization when he was younger.  As a result, he can be reactive to new people and he needs very slow introductions.  He needs a German Shepherd savvy adopter with experience working through fear reactive behavior.  He would do best in a home without a lot of visitors and he would need to be kept separated from guests as he acclimates.
Howie would make a great companion for an active person or couple.  He would be an excellent hiking or running partner.  His adopter would need to make training a priority and keep his mind busy.  If Howie sounds like the dog for you, apply today.