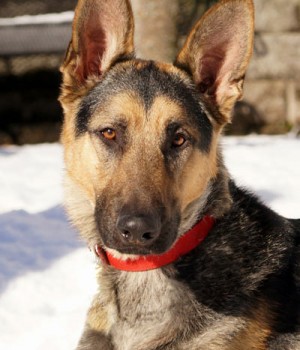 Status: Adopted
Age: 21 months
Size: Large
Color: Black and Tan
Sex: Male
Activity level: High
Good with other dogs: when properly introduced
Good with cats: unknown
Foster parents: Lynne R.
Sponsor Buddies: Liz and Bruce K
Yard Fencing: Required
Click to View More Images.
Password: Hawk
Photos by: Loueen LaVallee and Jo Slaney

Date Adopted: 2/21/2017
Age at adoption: 1 yr 9 months    DOB 5/20/2015
Hawk is a happy, energetic boy who likes to play, go for walks with his foster sister, Harper, and be part of the family. His foster Mom reports, "At 1½-2 years, he is a nice mix of playful pup and regal, noble GSD all rolled into one. One minute, he is sitting, looking like a king and the next minute, all 80 pounds of him is snuggling in your lap." He loves pouncing on squeaky toys, retrieving tennis balls, and chasing birds—enforcing a "No Fly Zone" in his back yard. He also relishes riding in the car and just hanging out with his family members as they go about their daily activities. Hawk's happy energy and regal presence, make him a wonderful prospective companion for someone seeking an active, loving canine friend.
Hawk came to GSRNE after his original owner became too ill to take care of him. He contacted an Animal Control Officer, who wanted to be sure Hawk would go to an adopter who understands the breed and contacted GSRNE.
Once in his new foster home, Hawk had to adjust to another dog in his world as well as a whole new home environment. While he was excitable at first, jumping on his foster sister, Harper, and overwhelming her, he has matured and is now relaxed around her and they regularly play happily together.  His foster parents say Hawk is one very smart and respectful GSD. After initially claiming one of their more comfortable pieces of furniture as "Hawk's Haven," it took only a few gentle "off" corrections to end the sit-in and he is now content anywhere in the house—stretched out in the breezeway or even in his crate.
Hawk's foster parents have begun basic obedience classes with him and he is already solid on "sit," "paw" and "down" while showing improvement on "quit it," "come" and "stay" commands. He appears to get along well with the other dogs in his class, although he does bark at strange dogs on occasion when out and about in the car. His behavior with cats is unknown. He tolerates vet visits and examinations very well, and displays no apparent phobias. The puppy in Hawk will sometimes cause him to playfully bark at the vacuum cleaner, but otherwise he is more curious about different sounds than fearful of them.
Hawk enjoys meeting new people and welcoming them into his world, but can benefit from continuing work on his excitability at initial meetings. He has had some exposure to children and has been fine with them while supervised.
Hawk should thrive in a home that can give him the love, assurance, and attention he desires and can help him continue to grow in confidence. He will benefit from an environment where he can regularly play outside and work off his high level of energy. Hawk also appreciates quiet times when he can just be in the same room or nearby with his family members.
If you have the experience to be a good GSD leader for Hawk, and appreciate his playful combination of canine youth and affection, please ask to meet him. See why his foster Mom summed him up this way: "He is just a great dog, loving life and loving learning about new things.