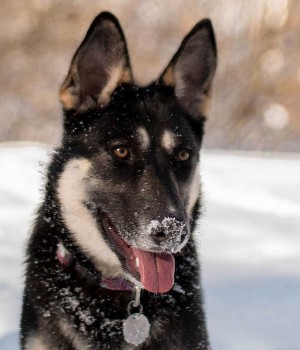 Status: Adopted
Age: 1 year (DOB 11/16/2019)
Size: Medium
Color: Black and Tan
Sex: Female
Activity level: Medium to High
Good with other dogs: yes
Good with cats: unknown
Foster parents: John J.
Sponsor Buddies:
Yard Fencing: Required
Click to View More Images.
Password: Harvey
Photos by: Lindsey Camilli & Marie G.

Harvey was rescued by a lovely single Mom of two young children who found her wandering when she was visiting family down south. Harvey's original family was located but told the young Mom they didn't want her anymore because she kept running away. She came back to Massachusetts but, unfortunately after a few months was too much for the resident older female dog in the home. It was very hard for this family to give Harvey up —they loved her very much especially the younger 5 year old child but, knew their first priority was their own older female dog. Harvey is shy and a bit timid when you first meet her but, warms up quickly. She's a ball of energy and is being fostered by a family with a young teenage boy. They have become best friends! She is absolutely adorable with a very sweet personality — a dog that definitely wants to please her people.
Her foster home has been working with a trainer on her obedience training. Harvey tends to be timid when she is meeting other people and other dogs.  They are working on polite greeting behavior —like many puppies her age she will sometime jump up to greet people. She does not typically bark at other dogs when she is on walks or when they pass her house.  Her foster family has been also taking her to doggy day care a few times a week for playtime and socialization where she gets along very well with the other pups. Harvey is adorable!  She is sweet, smart, and very active!  She would do well in a home with a family that will continue to work on her training and have time for lots of walks and play.