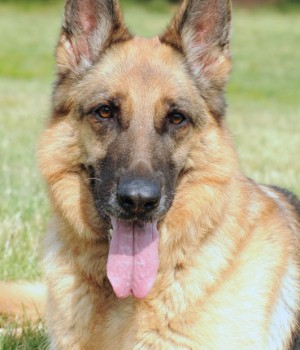 Status: Adopted
Age: 8 years
Size: Large
Color: Black and Tan
Sex: Female
Activity level: Medium
Good with other dogs: Yes
Good with cats: No
Foster parents: Danny T
Sponsor Buddies:
Yard Fencing: Required
Click to View More Images.
Password: Gabby
Photos by: Donna J

June 21, 2015
Her proper name is Gabrielle, but she goes by Gabby and is actually a pretty quiet girl.  She lived with a male German Shepherd, who is a few months older, and a retired couple.  When the wife passed away, the husband decided to sell the house and move closer to family members and asked if GSRNE could find loving homes for both dogs.
Gabby has done very well in foster care, except for wanting to chase the resident cats.  She responds well to verbal correction, but we do feel she would be happiest in a cat-free environment.  She gets along well with the 14-year-old male German Shepherd in her foster home, but she's pretty much her own girl and would also do well as an only dog.  She does go to a local dog park and has become good friends with a small-breed male; but she likes people best and uses her time to make new human friends.  Gabby just loves being with people.
At first, she didn't seem to have any interest in running after a tennis ball, but she'll do that now; she just doesn't see any point in bringing it back to the person who threw it.  We think that will just take more time and practice.
Gabby rides nicely in the car and usually uses the time to take a nap; she doesn't seem especially interested in looking out the window.  One of her favorite things is to get brushed.  When she first came into GSRNE, it looked like she hadn't been brushed in a while, and she seems to really enjoy standing calmly while her fur is brushed until it's smooth and shining.
This beautiful girl is now ready to meet her potential adopter and is waiting to hear from you!