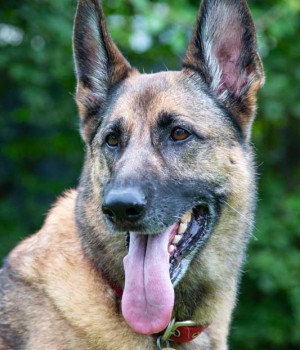 Status: Adopted
Age: 6 1/2 years old (DOB 12/7/12)
Size: Large
Color: sable
Sex: Female
Activity level: Medium
Good with other dogs: Some if properly introduced
Good with cats: Unknown
Foster parents: Mary M.
Sponsor Buddies: Maria O.
Yard Fencing: Required
Click to View More Images.
Password: Frieda
Photos by: Sue Darlington

This beautiful, loving girl could be your new best friend. She adjusts quickly to new situations and was at home with her foster family within a day. She adores her daily walks as well as play time, but is also content to laze the day away quietly while her foster mom works from home. She enjoys being in the fenced yard watching and listening and sniffing the air while the humans work outside. She is crate trained and goes in willingly when she needs to be home alone – but if you get out a certain kind of treat, she races for that crate!
Frieda does not appear to have had much training but in a short time has learned sit and down
and has become especially good before walks about sitting and waiting at the door until she's told it's okay to go out. She is unfazed by thunder and other loud noises in a busy neighborhood, and sometimes sits on the front porch with her foster mom to watch the world go by. Occasionally something will make her woof but she is not much of a barker. She ignores the noise made by a small incessant barker next door.
Before GSRNE, Frieda first lived with a family and lost that home due to a divorce. A husband and wife took her in, and all went well until the husband died in April of this year. He had been the primary companion for Frieda, and the wife was still working long hours. She realized that Frieda was missing her walks and play times, as well as her best friend, and was relieved when we found a foster home for this girl.
One of Frieda's most endearing qualities is that when a human approaches her when she's lying down, her tail starts beating the floor. She loves people and is happy to make friends with new ones. On walks she typically ignores people unless there is a deliberate introduction, whereupon she wags politely.
She has been known to react somewhat to runners and cyclists at times, so her foster family keeps an eye on that and has been working to improve that behavior.
At home it's a different story – she can be very welcoming. However, the family does put her on leash when someone new comes to the house to make sure of her reaction before simply allowing her to greet a visitor.  She seems to be happiest when her whole foster family is at home, including two young adult sons who live nearby.
Frieda reacts to other dogs on walks, so she has been going to dog classes with her foster mom to learn more appropriate behaviors. She is generally polite to the other dogs in class and has even played with a few. She has boundaries though and is better off interacting with one dog at a time.
Frieda would love to meet a family who will be able to give her lots of love, take her for a few good walks a day and continue her training and socializing.