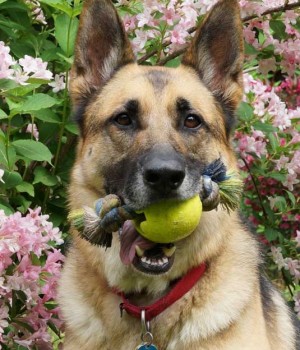 Status: Adopted
Age: 6YRS ( 4/28/13)
Size: Large
Color: Patterned sable
Sex: Male
Activity level: Medium to High
Good with other dogs: No
Good with cats: No
Foster parents: Larry and Loueen L.
Sponsor Buddies: Karyn and Paul S.
Yard Fencing: Required
Click to View More Images.
Password: Elvis
Photos by: Loueen LaVallee

Update 4/27/17:
Elvis is ready for that special adopter who has experience with the breed, would enjoy working with him to create the special bond he's capable of, and continue the training and mental stimulation that makes him shine.
This handsome boy with a big personality is looking for his forever home with a person that has had experienced with the breed, and who wants a real buddy.  If you are someone who enjoys training as well as play sessions, and who has no interest in going to a dog park, you could be just that person Elvis has been waiting for.
After his owner died, a family member tried to find another home for Elvis and, eventually, called GSRNE.  During the evaluation, we learned that he had not had much training.  He was living with two other dogs and two cats and seemed to get along with the dogs, but would chase the cats. He would get very excited and kept trying to jump on the visitors.
In his foster home, he enjoys the company of the young female German Shepherd who is a family member. He has learned that playing with her can be more fun than trying to dominate her, and they have become good friends. However, we think Elvis may be happiest as an only dog. He really bonds with his people and wants to be with them as much as possible. Elvis loves going for walks and car rides and will bring you his toys and invite you to play. After a day that includes training and exercise, Elvis will find a comfortable spot close to his people to relax for the night.
Elvis enjoys his crate and will comfortably stay in it when no one is home to keep him company, or will go in it if he just feels like some quiet time.  After a proper introduction, Elvis is quick to make human friends. If you'd like to become his new best friend, please ask for more information about this active boy.