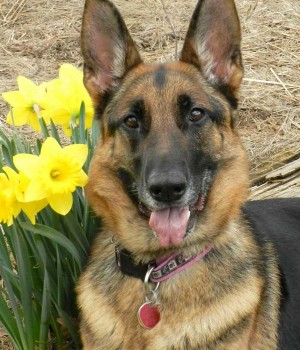 Status: Adopted
Age: 3 Years DOB 11/8/14
Size: Large
Color: Black and Tan
Sex: Female
Activity level: Medium to High
Good with other dogs: cautious, will bark
Good with cats: Unknown
Foster parents: Marie G.
Sponsor Buddies:
Yard Fencing: Required
Click to View More Images.
Password: Elsa
Photos by: Marie G.

Date Adopted:   6/29/2018
Despite her Frozen namesake, Elsa is no ice queen. This affectionate three-year old girl loves playing with her ball and spending time with her foster family. She enjoys walks and is always ready for a game of fetch. Her foster mom says that she'll even try and nudge her into a game while she's washing dishes! Elsa does, however, listen well; she will calm down and relax if asked.
Elsa tends to be nervous around new people. Although she will quickly warm up and even give a new friend a kiss on the cheek, she will react to a sudden movement and become timid again. If a stranger comes to the door, she will bark loudly. Elsa has a high prey-drive and would not do well in a home with cats, but she may be amenable to living with another dog; her foster mom reports that she is friendly with fellow dogs at the pet store. She is crate-trained and spends a few hours in the crate while her foster family is not home.
Elsa is a special-needs dog. She previously lived with a young couple who, upon expecting their first child, felt they could not properly care for her. Elsa takes enzyme powder for EPI (Exocrine Pancreatic Insufficiency), Prilosec for her stomach, and receives eye drops for pannus (inflammatory conjunctivitis). She will sit patiently while getting her eye drops. Though she eats three meals a day, she is on the thinner side, weighing in at only 62.5 lbs. Her vet believes that she will always be thin.
Elsa would do best in a home with someone who understands her medical needs and nervous behavior. Deeply social at heart, Elsa would also be happiest with someone who can spend time with her during the day.