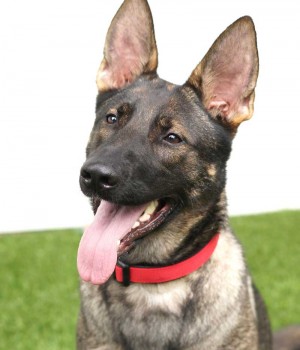 Status: Adopted
Age: 1 year (DOB 8/28/20)
Size: Medium to Large
Color: Black Sable
Sex: Female
Activity level: Medium to High
Good with other dogs: Yes
Good with cats: Unknown
Foster parents: Miguel D.
Sponsor Buddies:
Yard Fencing: Required
Click to View More Images.
Password: Eivor
Photos by: Loueen LaVallee

Date Adopted: November 13, 2021
Eivor is a beautiful, friendly, and energetic 1 year old sable female.
When Eivor, who responds to Ivy, first arrived at one of our foster homes, which also has a doggie daycare, she was initially uncertain about her new surroundings.  However, once she realized the other dogs just wanted to play, she became a social butterfly.  She very much enjoys spending time with the other dogs and her foster dad.  Her foster dad has done a wonderful job of teaching Ivy house manners.  She is crate trained and will happily enter especially if she gets a Himalayan chew!  We have received lots of adorable photos of her playing with her toys (which she adores!) and the other dogs.  She has taken well to basic training and her puppy like manners have improved as her foster dad has helped her learn how to better channel her vivacity for life.
Ivy is a smart, happy girl who needs lots of exercise and attention.  She will need someone to keep her mind active and to continue her training which she really enjoys.  In return, her adopters will receive endless laughs, love, and affection.  Could that person be you?!