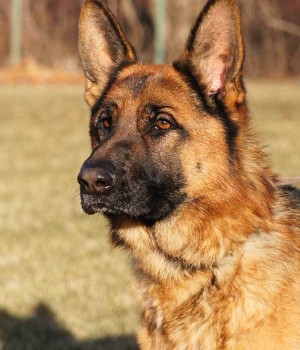 Status: Adopted
Age: 2 Years Old
Size: Medium to Large
Color: Black and Tan
Sex: Male
Activity level: medium to high
Good with other dogs: Yes
Good with cats: No
Foster parents: Mary F.
Sponsor Buddies:
Yard Fencing: Required
Click to View More Images.
Password: Dozer
Photos by: Loueen LaVallee

Adopted Aug. 3rd, 2019
Dozer is a friendly boy who likes meeting people and loves a good game of fetch;  he also enjoys carrying large sticks, the bigger the better.  He's good around other dogs, has had some obedience training and will do anything for a treat.  He does get excited when he sees a squirrel running and would not do well living with a cat; but with treats and some training on "watch me," he can be distracted from the squirrels and focused on other things.
He belonged to a soldier and enjoyed a good life for a while.  When his soldier was recently deployed, Dozer was left in the care of a family member who was asked to find him a more permanent home.  He was taken in by a family friend, but the work schedules made it necessary to leave Dozer alone for eight hours a day. He got along well with the other dog in the family but would chase the cats and had to be crated when no one was home and at night.  After six months, Dozer was suffering from the lack of exercise and was chasing his tail in frustration. The new owner decided to look for help in finding him another home.
Since coming into GSRNE, Dozer has adjusted nicely to having more exercise and less crate time and has stopped chasing and grabbing his tail.  The missing fur has all grown back, and now his beautiful tail is one of his eye-catching features.  He's a good boy during vet visits, takes direction well and loves getting attention and being petted.  He's ready to meet the person or family who will make him an valued part of their life and appreciate all the love he has to share.