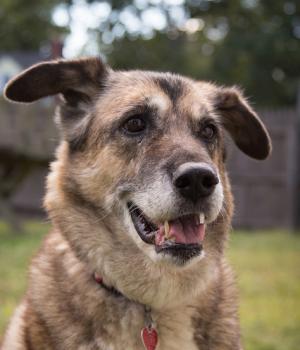 Status: Adopted
Age: 12 Years Old
Size: Medium
Color: GSD/Akita mix
Sex: Female
Activity level: Low
Good with other dogs: Yes
Good with cats: Yes
Foster parents: Wendy M.
Sponsor Buddies: James Nemeth
Yard Fencing: Exception considered
Photos by: Sue Darlington

Adopted: 8/28/2014
Sometimes we're asked to help a dog who is not 100% German Shepherd; and we try, first, to do some networking for the dog. When the need is immediate, though, we bring the dog into GSRNE if we have an appropriate foster home. This was the case when we learned about Diamond, who is a sweet GSD/Husky girl. Her owner died, and the owner's daughter was trying to find homes for his five dogs. The younger ones were chosen, the daughter kept one older dog who has cancer, and Diamond was still waiting as the date for the sale of the house arrived.
Fortunately, we have a foster Mom who has a special place in her heart for the older dogs, and she had room in her home for Diamond. She also has a senior male GSD and a dog-savvy cat; Diamond was happy to meet the male GSD but was not too sure about the cat. With close supervision and some lessons in cat manners (administered by the cat), Diamond was doing very well at the end of the first week; so that hurdle was cleared.
She didn't eat much during that first week and was not tempted by treats or toys; actually, she didn't seem to know what to do with a toy. Something was bothering her, in addition to missing her pack mates, her owner and her familiar surroundings. She was having "accidents" in the house, so we asked her foster Mom to take her to the vet to be checked for a Urinary Tract Infection. Sure enough, that's what was making her feel "off" and causing the accidents. Once the medication got that cleared up, Diamond became more active and started eating normally.
She's a friendly girl, but she'll bark when someone knocks on the door; she follows the lead of her present pack member, Murray, and greets visitors nicely. She didn't know how to walk on leash but has learned not to pull and enjoys her walks now. We do think she'll be happiest living with another dog in the family, and having a cat buddy would be a bonus.