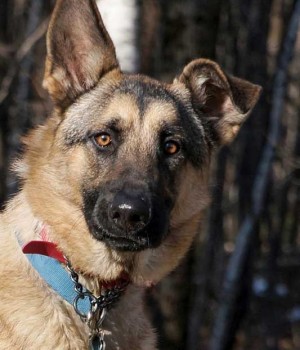 Status: Adopted
Age: 2 years (DOB-1/18/2017)
Size: Medium to Large
Color: Black and Tan
Sex: Male
Activity level: Medium to High
Good with other dogs: Yes
Good with cats: Unknown
Foster parents: Steve C.
Sponsor Buddies: Jim N.
Yard Fencing: Required
Click to View More Images.
Password: Dawson
Photos by: Loueen LaVallee

Dawson was left at a kill shelter by his owner and almost didn't have the chance for a life….he just turned 2 years old in January.  Thank goodness a rescue group bought him some time and called GSRNE to ask if we could give him that second chance.  Thanks to a new foster home, we've been able to do that.
Over the months that Dawson has been in our foster care, we've learned that his favorite activity is to run and play in a fenced yard.  He especially enjoys chase games with the other dog in the family, a Cockerpoo, and likes being chased as much as he likes doing the chasing.  He also likes any activity where he can be with people and bask in their attention; we don't think he was given much in his original home.
Dawson is polite when meeting new people as long as they wait for him to approach.  He can be nervous and unsure if a stranger walks right up to him. He does need an owner who will give him boundaries, because he will try to push some limits, such as charging through a door ahead of a person who forgets to tell him to "sit" and "wait."  He has also been known to jump up and bump the food dish someone is about to set down,  unless he gets a reminder to "sit" until given the release.
He does like most other dogs and would run up to initiate a play session.  Not all dogs and owners would appreciate this enthusiastic greeting, of course, so Dawson needs to be on leash and under control.  He did not understand the concept of walking on leash without pulling the human on the other end; but he gradually learned how to do that, which makes walks a pleasant experience for both parties.  He has been taken to stores like Home Depot for experience in walking past people and around activity and reacts favorably to people who want to give him some attention.
We would love to see Dawson move on to his forever home, now that he's ready, so please let us know if you would like to be that special home!