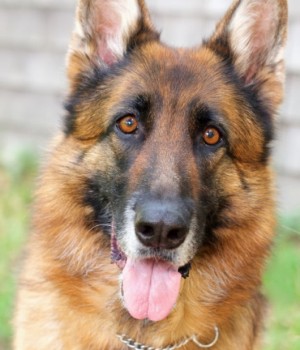 Status: Adopted
Age: 9 years DOB- 5/24/2007
Size: large
Color: Black and Tan
Sex: Female
Activity level: Medium
Good with other dogs: some
Good with cats: unknown
Foster parents: Lowry H.
Sponsor Buddies: Melissa D.
Yard Fencing: Required
Click to View More Images.
Password: Daisy
Photos by: Donna J

Date Adopted: March 11, 2017
Age at adoption: 9 yrs 10 months  DOB 5/24/07
At 9 years old, Daisy has been through a lot; but she is resilient and has a great outlook on life.  She's healthy, with a little arthritis in her hips which doesn't slow her down; she bounces around happily.  Her early life, living with a family with children, seems to have given her a solid foundation before things changed.  We know that she was subjected to aggression by another female dog who had joined the family, and she was moved to another owner.  He really didn't have time for her and didn't take her to the vet for the two years she was with him.
Daisy arrived at GSRNE in June, a little underweight and with dangerously overgrown nails; her coat was ragged, and one paw was badly infected.  She was wary of strangers and when seeing other dogs, but she has been learning, in foster care, that visitors can mean treats and lots of positive attention; she loves to be petted and is getting over many of her fears.
Daisy has been oriented to clicker training and loves learning obedience commands and tricks.  She'll play fetch in the house and will now drop the ball most of the time.  She knows "sit," "down" and "stay." She'll shake hands and touch a target with her nose, walks nicely on a loose leash and is unafraid of city noises and thunderstorms.  Her housebreaking is perfect and she has no destructive behavior in the house.  She will go into her crate to lie down and hang out, but she doesn't like to have the door closed…she spent too much time crated in her previous life.  She will settle down after objecting for a few minutes, though, and her foster Mom has left her crated for an hour or two when she had to be away from home.
The ideal home for Daisy would be with someone who is retired or works from home and who will be patient with her while continuing to get her used to new experiences.  Her behavior around other dogs is inconsistent; she will ignore them at times if they show no interest in her, but she will bark and lunge if they seem to be a threat.  In foster care, she's been mostly fine with meeting new people; but she has reacted by barking and air-snapping at others.  She loves being petted and being shown attention once she accepts someone; but she can get overexcited and mouthy if the person doesn't go slowly.
If you have experience with German Shepherds and would enjoy the love and companionship of a beautiful girl who is looking for her forever home, please ask us about meeting Daisy.