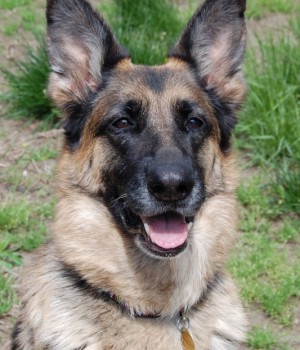 Status: Adopted
Age: 5yrs DOB- Dec 31, 2009
Size: medium - large
Color: Black and Tan
Sex: Female
Activity level: medium
Good with other dogs: after slow introduction
Good with cats: unknown
Foster parents: Peggy S
Sponsor Buddies:
Yard Fencing: Required
Click to View More Images.
Password: Crystal
Photos by: Marie G.

Adopted: August 28, 2016 at age 6 years 8 months
Original write up:
Life was good for Crystal for most of her first five years; she lived with four other dogs and was part of a loving family.  Then, on the day before Thanksgiving 2015, their home was destroyed by a fire.  Her owners could not find any place to rent that would allow five dogs, so Crystal's owner paid to board them all while continuing to look for housing.  Eventually, he had to place three of the dogs and Chloe and Crystal, both about to turn 6 years old, came into GSRNE; another breed rescue took the other dog, so all are safe.
In her foster home, Crystal is an only dog and has been doing very well as the center of attention.  She loves to be with her foster Mom, whether playing ball in the yard, going for a walk in the neighborhood or just hanging out inside. 
She does have a good energy level and will get excited while running and playing.  Her foster Mom said she sometimes has to take her back inside before going for a walk to give her time to calm down.  She can still get a bit jumpy when she's excited, so teaching her to keep all four paws on the ground is a work in progress. She wants to be close by in the evenings and will try putting her front half in her foster Mom's lap.  After some cuddling, she's ok with going back to her dog bed on the floor.
When out for walks, Crystal will bark at other dogs and has not seemed interested in having a playmate.  She'll be fine as an only dog and wants to be with her person and a part of whatever is going on.  She's able to stay home in the crate when her foster Mom goes to work for a few hours at a time, but she would love to find an adopter who doesn't have to be away all day.  Crystal is ready to meet the person or family who will become her forever home.