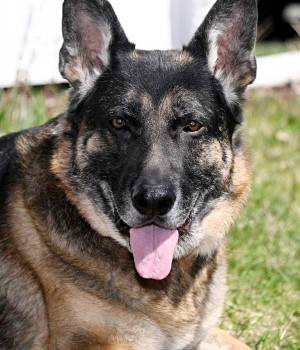 Status: Adopted
Age: 9 years (DOB 12/07/2013)
Size: Large
Color: Black & Tan
Sex: Male
Activity level: Medium to High
Good with other dogs: Some if properly introduced
Good with cats: Unknown
Foster parents: Eric & Lara C
Sponsor Buddies: Carol Wright and Dick Brown
Yard Fencing: Required
Photos by:

Date Adopted: April 15, 2023
9 year old Chief's story is one that truly shows the commitment and passion of the GSRNE volunteers, members, and friends.  
Chief's owner contacted us in late December looking for help in placing him.  He had owned Chief since puppyhood but he'd fallen on hard times, lost permanent housing, and now the options for temporary housing had run out.  He had contacted a local shelter who told him that the sad truth was Chief's age, breed, and dog and cat reactivity meant he would most likely be euthanized.  Chief's owner could not allow that to happen to the buddy he loved so very much as evidenced by the many photos sent to our rescue of their adventures when he asked us for help.  Our evaluators met Chief and found him to be very people friendly guy.  We knew we had to help Chief find a place to live out his golden years, but we had no foster homes without dogs or cats available.
This is the part of the story where our awesome volunteers and members kicked it into high gear to save this boy.  We put out a general plea within the group for Chief.  Through networking, a German Shepherd savvy family friend of a volunteer who'd recently lost their German Shepherd was found and willing to foster Chief!!  Within a matter of days, Chief was in his new home and everyone let out a sigh of relief.
We were soon getting pictures of him dreaming his day away on his not one, not two, but three dog beds or the lazy boy armchair he was fond of taking over.  His new family did tell us he was quite reactive to other dogs on walks so they were careful to avoid confrontations.  Chief also had some skin growths on his eye lids that we had evaluated and they thankfully only need observation.  Chief's foster family has fallen in love with his sweet personality and have learned how amazingly rewarding it is to bring a senior dog into the hime.  They have asked to be his forever family and we couldn't be happier.  Way to go Chief!