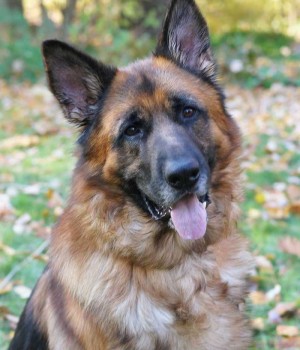 Status: Adopted
Age: 4 years (12/20/16)
Size: Large
Color: Black and Tan
Sex: Male
Activity level: Medium to High
Good with other dogs: Yes, with proper introduction
Good with cats: Unknown
Foster parents: Mike and Gina D.
Sponsor Buddies:
Yard Fencing: Required
Click to View More Images.
Password: Champ
Photos by:

Date Adopted: November 20, 2021
Champ, 4 ½ years old, came into GSRNE after being in a shelter
for three months. The shelter manager told us that his owners
had given him up because they didn't have time for him and he
had skin issues that were getting worse. The shelter personnel
learned, later, that Champ had been living outside for the past
four years. They went right to work to help with the skin issues,
giving him medicated baths, vet care and a lot of TLC; and they
were impressed with his good disposition in spite of the life he
had been living.
When our evaluators met Champ, they were also impressed by his
friendly greeting but could see that the stress of living in the
shelter was getting to him. The main problem was his
mouthiness; he liked petting and attention but would get
overstimulated and put his mouth on the person's hand or arm.
There was no aggression, just no manners, and he stopped when
given a firm "NO."
It took just two weeks in an experienced foster home for the
mouthiness to be much less of a problem, and Champ's foster
Dad noted that he's a very smart boy and learns quickly. He
meets visitors in a calm, quiet manner, but he can get overly-
excited when they pet him and has to be reminded to not be
mouthy. You can actually see Champ remember and stop himself
at times, and his adopter will have to help him out with reminders
when giving him attention.
Speaking of "attention," Champ is very affectionate and will often
nudge his foster Mom or Dad's arm for a scritch or a snuggle; at
other times, he will gently touch you with his nose. His gorgeous
black/reddish gold coat has grown back in the places that were
affected by the skin condition. Both his ears were infected when
he went into the shelter, and they started treatment that was
continued in the foster home. Champ took the ear medication
with no issues, and that infection has cleared up nicely, too.
​
He does have a lot of energy and really enjoys his collection of
toys, especially the Jolly ball and playing "fetch." He runs to get
the ball and brings it back so it can be thrown again, but he
sometimes wants to hold onto it and is still learning to "drop" it
on command. In the house, he carries around his squeaky ball or
picks up a rubber tug toy for a good game of tug-of-war. If his
foster Dad is working at home and at the computer, Champ can
get bored and start nudging for some play time. If he gets about
15 minutes of playing in the house at that point, though, he'll
settle back down until it's time for one of his walks.
Mostly, Champ wants to be with his people. He ignores other
dogs when out for a walk but will get upset if the other dog barks
and lunges towards him. He can be redirected and will continue
walking; he does keep an eye out for squirrels who might be on
the move. If you can provide this handsome boy with mental
stimulation and physical exercise, lots of love and consistent
leadership, Champ could be the companion you're looking for.