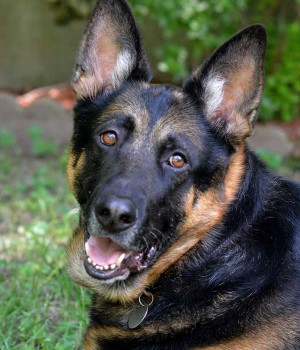 Status: Adoption Pending
Age: 6 yr (DOB 12/28/16)
Size: Medium to Large
Color: Black and Tan
Sex: Male
Activity level: Medium
Good with other dogs: Yes
Good with cats: Yes
Foster parents: Theresa F
Sponsor Buddies:
Yard Fencing: Required
Click to View More Images.
Password: Buddy
Photos by: Donna J.

Buddy is a gentle giant with a calm soul who just wants to be with his people.  For a German Shepherd, he tends to be on the lazy side, but he is up to any activity you ask him to do, such as walking, or going for a ride.  His foster Mom has taken him to stores and he will sit nicely beside her while she makes her purchases.  Buddy loves to play with all his toys and with anything he can chew on, or hold in his mouth, especially a tennis ball, but he is not destructive at all, unless there is a squeaky inside and then eventually he will decide that he wants to take it out.  He has become best friends with the neighbor's female German Shepherd, Shelby, and loves to spend time with her. One of his favorite things to do is chase the bees or to just lie in the grass and watch the world go by, along with the squirrels, birds and bunnies. He would occasionally get up to chase but never catch.
 His former owner is a U.S. Marine who loved him very much but was being deployed for 2 years with no one to take Buddy.  As soon as we heard his story we knew we had to help. In his previous home, Buddy had never lived with cats, but his foster home has a resident cat.  The cat hid in a bedroom for three weeks, and then started to come out.  Buddy had chased the cat initially, but then quickly learned that the cat didn't want his toys, his food or anything really, and now they sleep together and get along great.  He will still try and play and chase him occasionally, but the cat will show who is boss by gently slapping him and that's all Buddy needs!
The ideal home is one in which Buddy is either the only dog, or has another dog to spend time with. He does seem to prefer females over males because he is a true ladies' man.  Buddy can also live with a dog savvy cat after careful introduction. Buddy can live with kids, and really would just like to be in a home where he is loved, where his people pay attention to him and spend time with him, as this is what he had with his previous owner.  He will do whatever you want, whether it be a walk, hike, ride in the car, or he is content to just sit with you, whether it be at your feet, under the kitchen table, on a couch or in bed with you watching TV.  Buddy likes to chill.