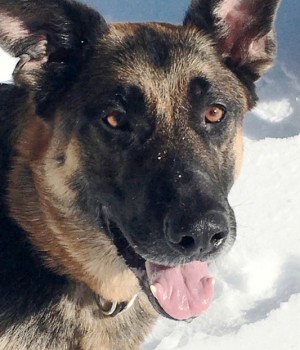 Status: Adopted
Age: 5YRS (12-25-12 )
Size: Large
Color: Black and Tan
Sex: Male
Activity level: Medium to High
Good with other dogs: Yes
Good with cats: unknown
Foster parents: Mike M.
Sponsor Buddies:
Yard Fencing: Required
Photos by: Mike M.

Life has certainly been better for Brutus since he came into GSRNE and was placed
with an experienced foster Dad. He had been living in deplorable conditions in a
basement, rarely taken out of that environment, until a family member stepped
in, took ownership and called our rescue. Brutus weighed 126 pounds and was
seriously overweight, had untreated ear infections and was still friendly and
responsive during his evaluation.
In foster care, he was put on Prednisone and antibiotic ear drops for the acute ear
infection. He was fed a good quality, low calorie food, and he was exercised
outside three or four times a day; after two weeks, he had dropped eight pounds
and was clearly feeling better and moving more comfortably. He had not shown
interest in toys at first but now gets excited to see a tennis ball and will run to
pounce on it and bring it back.
He gets along well with the female GSD in the home, but he did have a tendency
to try to dominate her by being pushy and giving body blocks. His foster Dad
worked on teaching Brutus some boundaries, and the two dogs are now playing
nicely and love their chase games in the yard. Getting along with the cat in the
family was another learning experience, and Brutus thought it was fun to chase
him for the first few weeks. He and the cat are now good friends, though, and he
seems to like having the kitty rub against him.
His foster Dad says that Brutus is a big cuddler and loves to just be loved. He
snorts and grunts in pleasure when he gets belly rubs and cuddles. He literally
smiles when you scratch his cheeks and behind his ears. He also has a stubborn
streak, though, and he will ignore a command that he knows well if he doesn't
feel like responding. He makes up for that by being super social and good with
everyone he meets.
In fact, things are going so well in the foster home that Brutus has been invited to
stay and make it his forever home. From the expressions on his face in his photos,
this is the best present we could possibly give him and his new family.