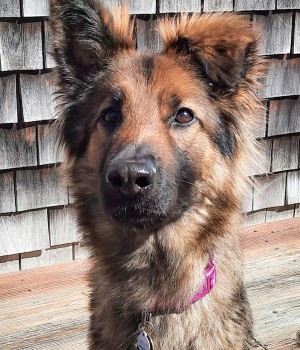 Status: Adopted
Age: 2.5 years (DOB 09/01/2020)
Size: Medium
Color: Black and Tan
Sex: Female
Activity level: Medium to High
Good with other dogs: Some if properly introduced
Good with cats: unknown
Foster parents: Sarah and Tim B
Sponsor Buddies: Jan Kozlowski , Peggy Serino, Joanne Smith, Sarah & Tim Bates, Deb Saperia, Barbara Rossiter, Debi Thompson, Carol Berdar, Eileen Moreira, Gail VH, Rita Cabral
Yard Fencing: Required
Click to View More Images.
Password: Brave
Photos by:

Date Adopted:July19,2023
When we were contacted by Brave's owner, a 2.5 year old female GSD, we were horrified when we looked at the photo of her. She appeared emaciated, and we asked the owner to take her to the local VCA immediately and said that we would take ownership and responsibility for vet care. We held our breath waiting to hear back from the Vet. Poor Brave only weighed 28 lbs when she was admitted. Read that again… Brave was 28 lbs and is 2.5 years old! The Vet told us she was weak, extremely malnourished and would have been dead in a few days if we hadn't intervened. How could anyone allow this to go on for so long; this poor dog hadn't been to the Vet in almost 2 years…We are just grateful her owner's reached out to us…
After testing, it was as suspected,  poor Brave had EPI that had been untreated. This is easily controlled with medication, and Brave is responding very well to the EPI enzyme supplement that she will need to stay healthy. She is feeling much better as she is gaining weight and energy. She is becoming more playful, and will be ready to go to her forever home soon.
We are looking forward to learning more about Brave as she blossoms into the happy healthy girl she was meant to be.
————————————————————————————————————————
Update 3/5/2023
This dog is so sweet and very affectionate it's still hard to comprehend how anyone could allow her to be so sick and close to death.
Brave is doing really well and playing more each day. If you throw the toy she will quickly go after it and bring it right back to you. She's still hungry but not as desperate. Her foster Mom said it's a balancing act to feed her amounts to gain weight, not too much too often want to avoid Bloat.
Tomorrow is a big day for our girl. She has a Vet appointment for her first Lyme vaccine, weigh-in and nail trim. Let all say a little prayer everything goes well at her appointment.