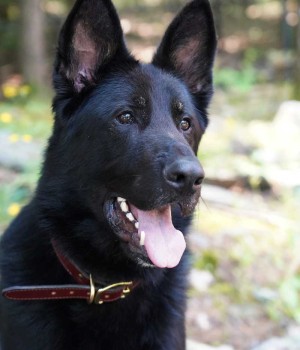 Status: Adopted
Age: 3 years (5/19/20)
Size: Medium to Large
Color: bi-color
Sex: Male
Activity level: Medium to High
Good with other dogs: Yes
Good with cats: Yes
Foster parents: Paul D.
Sponsor Buddies:
Yard Fencing: Required
Click to View More Images.
Password: Bleu
Photos by: Loueen LaVallee

Date Adopted: July 9,2023
We met this handsome boy when a local shelter called us after he had been surrendered to them.  He was turned in by his second owner in only a few days, who got him off of Craig's List.  The man decided he was not a GSD guy and didn't know how to handle him.  At the shelter Bleu was great with the ACO and even some of the younger teen volunteers that took him out for playtime.  We think, because of his name Bleu, and his easy-going disposition, his first family must have had children in the home and he was possibly named after the cartoon character Bluey.  Perhaps he was a "Covid dog" and showed some separation anxiety when the parents went back to work and the children went back to school and that's how this poor dog ended up on Craigs List.  We're grateful that the second owner turned him into a shelter that called us.  The ACO noticed right away he was such a nice dog and easy to like so, they wanted to make sure he wasn't going to end up in the wrong hands.
Our evaluator, who is also a trainer, found him to be a really nice dog too.  He noticed that Bleu had a ton of energy, and lots of food and toy drive.  Bleu was very friendly and even excited to see his male dog, and showed no aggression at all.  It was obvious that Bleu was very underweight, and clearly did not get a good start in life.  He definitely needed some training and some exercise to contain his energy.  But, in all, he found Bleu to be a very sweet boy.  In fact, Bleu made such a good impression on our evaluator that he called us a week later and offered to foster and train him for a few weeks to help get him out of the shelter.
Fortunately, we recently had a wonderful couple apply to adopt that has a 15 month-old female GSD mix named Charlie. They really wanted to add a second dog to their family.  Once they met Bleu, it was love at first sight, for all of them, including for Charlie.  We're happy to say that Bleu is doing wonderful and has easily transitioned into his new home as if he has always been there.