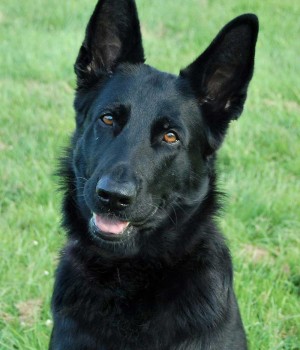 Status: Adopted
Age: 3 years (DOB 04/14/2018 )
Size: Medium to Large
Color: Black
Sex: Female
Activity level: Medium to High
Good with other dogs: no
Good with cats: unknown
Foster parents: Ed and Linda R
Sponsor Buddies:
Yard Fencing: Required
Photos by: Marie G.

Date Adopted: August 2, 2021
Bella is a 3-year-old all black German Shepherd who undoubtedly lives up to her name as she's stunningly beautiful.  What's more, she's not just all looks, she's got brains too.  Her foster parents say she is so smart that they are convinced she can tell time!  
Bella was originally purchased as a puppy from a reputable out of area breeder.  All went well until her owners began to have health problems.  They realized that, due to their health and age, Bella's high energy and zest for life was more than they could handle.  As long time German Shepherd owners, giving up Bella was an extremely hard decision for them to make.  They loved her dearly and wanted to make sure Bella found a home that would give her a full and happy life.  They called us for help and we are so glad they did.
When we first learned about Bella, we did not have any foster homes available.  However, we did have a couple, two time prior GSRNE adopters, looking to adopt a young female after their last dog passed away.  They'd had 3 female GSDs over the years and they felt they were ready to open up their home once again to a dog in need.  Bella seemed like a great fit so we asked them if they would foster her with the plan of adopting if all went well.  They agreed.
On arrival to her foster home, Bella was nervous but affectionate.  She adjusted very quickly and has since formed a close bond with her foster family.  Her foster mom says "she loves being loved and giving love [with] lots of kisses and paws".  Bella will nudge her foster parents with her nose when she is looking for affection.  She also has an affinity for stuffed toys, especially her "Lambie" (Lamb Chop), and always takes it with her on car rides.  When she plays with her stuffed monkey, she will take in her mouth, shake her head back and forth, and then let her foster dad have it back.  
Like most dogs, Bella did have a few challenges to work through.  She didn't have a lot of training and she was very reactive to other dogs on her walks.  We know she lived with an older male GSD, but we don't know how much other socialization she had in her prior home.  Additionally, while she was accepting of strangers outside of the house, she was wary of new people inside.  Her foster parents started teaching her basic commands and worked with our training director on her reactivity.  She is now learning to look to her foster parents for direction when passing other dogs on the long walks that she enjoys so much.  Slow introductions outside (and a few treats!) helped her become more accepting of guests.  Her foster parents understand the importance of daily training and say everyday just gets better and better.
In her last foster home report, we asked her foster parents to describe the characteristics an ideal home for Bella would have.  They quickly responded "our home is the ideal home for her!".  We couldn't agree more.  We are so happy for Bella and her new family!