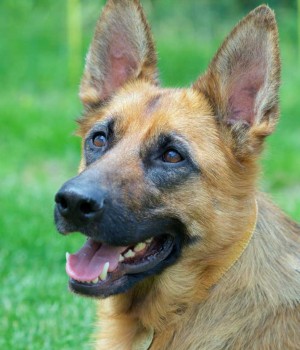 Status: Adopted
Age: 3YRS (02/14/2014)
Size: Large
Color: Black and Tan
Sex: Female
Activity level: Medium to High
Good with other dogs: with some after proper introduction
Good with cats: Unknown
Foster parents: Peggy S
Sponsor Buddies:
Yard Fencing: Required
Click to View More Images.
Password: Bella
Photos by: Donna J

This petite girl loves to go for walks, play catch in the yard, go for car rides or, basically, be with you no matter what you're doing.  She walks with her foster Mom on sidewalks and is not bothered by cars passing or other people and dogs walking by.
In the house, she'll stop what she's doing if she hears a new sound and will listen intently until she figures out what it might be.  When someone comes to the door, she'll bark but is then happy to meet them; she might jump up in excitement but does know she's not supposed to.  She had some obedience training before coming to GSRNE at age 3 and knows her basic commands.
Her previous owner got her as a puppy and was very sad about having to find her another home.  He said his wife had become allergic to dog dander, and nothing they tried had helped her.  Bella couldn't always be with the rest of the family, and he knew that was not fair to her.  When she was six months old, she went through surgery to correct a heart condition and made a good recovery. The vet said Bella should have a normal life span if she stays on the medication which is inexpensive at $10.00 for a 3 month supply.  She takes a pill after each meal in a pill pocket, and her foster Mom said that Bella goes to her after her meal, looking for the "treat."
Bella is an only dog in her foster home, but she seems interested in playing with other dogs.  When our photographer visited to do the photo shoot and get pictures for our Website, she had her small dog with her.  Bella and Merry were introduced and had a great time playing together in the fenced yard.
If you're looking for a sweet girl who will look to you for love and companionship, please ask us about Bella.