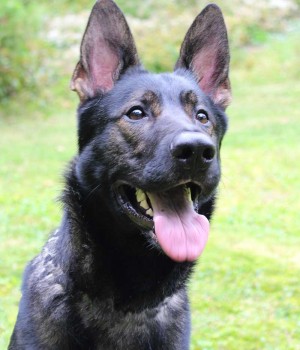 Status: Adopted
Age: 2 years (DOB 9/15/2019)
Size: Large
Color: Sable
Sex: Male
Activity level: Medium to High
Good with other dogs: yes
Good with cats: unknown
Foster parents: John D.
Sponsor Buddies:
Yard Fencing: Required
Click to View More Images.
Password: Bear
Photos by: Sara Hincapie

Date Adopted: November 5, 2021
Bear is a 1.5 year old male who is, you guessed it, smarter than the average bear!  He's a fun and friendly boy with lots of drive.
Bear's original owners loved Bear, but life changes, and these changes made it too difficult to raise a young GSD properly.
We had an experienced foster home available that was able to take in Bear.  They have a small, older female hound mix with whom Bear has done well.  We learned that Bear is a social boy who likes meeting other dogs and tooling around town with his foster dad.  He enjoys meeting new people and is game for any adventure.  As with most young German Shepherds, he needs structure and plenty of attention from his adopters.  If you are looking for a smart, active, and friendly dog, Bear may be the guy for you.