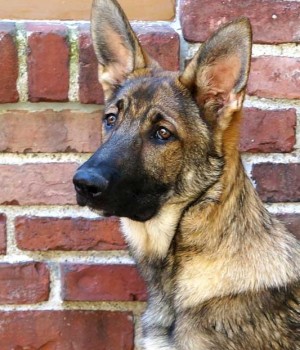 Status: Adopted
Age: 4 months est Jan. 2020
Size: Medium to Large
Color: Sable
Sex: Male
Activity level: Medium to High
Good with other dogs: Yes
Good with cats: unknown
Foster parents: J. Gulati
Sponsor Buddies:
Yard Fencing: Required
Click to View More Images.
Password: Bear
Photos by: Loueen LaVallee

Date Adopted:          June 4, 2020
When a young man who attended school in another state had to come home due to COVID-19 just before leaving he found a puppy chained to the cart coral at Walmart. The puppy was malnourished and in rough shape. He brought the young dog back home to Massachusetts where he and his family nursed him back to health.  Having two dogs, and 3 cats already of their own they wanted to find a home for him.  The puppy the named Bear was approximately 3 months old and was house trained and crate trained when they contacted us.
We had an approved adopter with a friendly 2 year old sable female named Gracie, and a dog savvy cat waiting to add another dog to their family so we reached out to them.  As soon as they saw the photos of this adorable little guy they agreed Bear was the dog for them.  
It was love at first sight for Bear and Gracie who seemed to immediately forget about the resident cat once the puppy arrived. Bear is sweet and well behaved and both dogs play nicely. The family has already been working with a trainer to keep the puppy socialized and plan to send him to doggie daycare with Gracie three times a week.  We're grateful that even during this global pandemic that the young man stopped to help Bear and bring him home, and he is living his best life with his forever family.