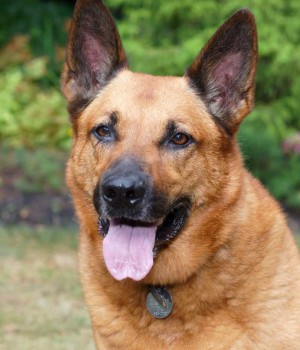 Status: Adopted
Age: 7 years (9-4-2013)
Size: Large
Color: tan with black
Sex: Male
Activity level: Medium
Good with other dogs: yes
Good with cats: yes
Foster parents: Jeannie M
Sponsor Buddies: Jim N
Yard Fencing: Required
Click to View More Images.
Password: Aries
Photos by: Loueen LaVallee

Date Adopted: March 06, 2021
Aries lives to run, play and go for walks….he's an active boy and will bring you a toy when you first meet him. He's not interested
in being petted or fussed over until he gets to know you really well, and then he'll show you the warm and fuzzy side to his
personality.
He came into GSRNE in June, 2020, after his owner called and said he and his wife had gotten a divorce and were each moving to
housing where dogs were not allowed. Their two dogs had been littermates and together their whole lives. He was hoping they could stay together, but we explained that it's difficult to find adopters who can take two dogs at once. We were
very lucky to have a foster home who would do that, but we learned that the two dogs would probably do better if separated.
Aries especially loves his Frisbee but will also dash off after a ball or other toy you throw for him to retrieve. He rushes back, eyes
dancing, and eager to chase after it again. His enthusiasm for jumping to catch the Frisbee did lead to an injury, causing trauma
to his sciatic nerve when he landed wrong. He's been through physical therapy and acupuncture and is back to running, playing
fetch and going for walks, which is another favorite activity. No more high jumps for him, though, and he's just as happy running
after ground balls and chasing the Frisbee at ground level.
Walks should be part of his daily routine, as he looks forward to them and needs that kind of exercise. He weighed 110 pounds
when he came into GSRNE, and his foster Dad helped him slim down to 90 pounds by walking twice a day as well as measuring
his food consistently. He's not interested in playing with other dogs and would not enjoy a dog park. He did live with two cats,
though, and got along well with them.
If you're looking for an active boy who will want to be by your side and just hang out in the evenings, Aries might be just the dog for
you!