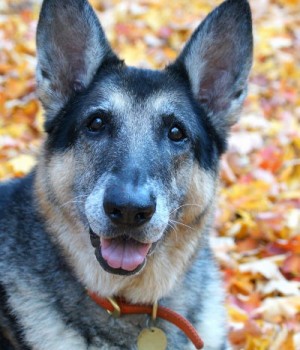 Status: Adopted
Age: 8 years (DOB 3/15/08)
Size: Large
Color: Black and Tan
Sex: Male
Activity level: Medium
Good with other dogs: Most
Good with cats: Unknown
Foster parents: Loueen and Larry L.
Sponsor Buddies:
Yard Fencing: Required
Click to View More Images.
Password: AJ
Photos by:

Adopted: Nov. 6, 2016 at age: 8 yrs  8 months  (DOB 3/15/08)
Original write up:
AJ is a very sweet boy who is not demanding at all; he would be happy just to be by your side as you go about your daily routine.  He LOVES his daily walks and gets all excited when the leash comes out, which is a joy for his foster parents to see.
When we first met AJ, he was overweight and under-exercised; his back legs were weak, and he was happy to be quite the couch potato.  His elderly owner had called GSRNE from the hospital, where he was about to undergo heart surgery, and begged us to bring AJ into our rescue and find him another home.
In his foster home, AJ's exercise level has been gradually increased by going for longer and longer walks, walking up hills, going up and down stairs.  He has become a great walking buddy and needs to keep up that kind of exercise in order to increase his muscle tone and stamina.  Playing with toys seems to be new for him, but he's gradually getting the idea; he now goes after a tennis ball and is learning to bring it back for another throw.
There's a female GSD in the foster home, and AJ seems to enjoy being with her, although they don't engage in vigorous play sessions.  They investigate smells and objects in their large, fenced yard and relax together in the house.
AJ is looking for someone who wants a quiet, loyal companion and who will continue to take him on daily walks, toss a tennis ball and introduce him to some fun toys.  It's really rewarding to see this big boy gaining a new lease on life!