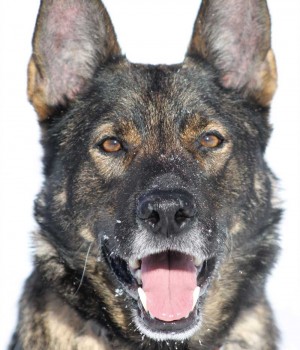 Status: Adopted
Age: 5 yo (DOB 9/3/2015)
Size: Large
Color: Sable
Sex: Male
Activity level: Medium to High
Good with other dogs: no
Good with cats: no
Foster parents: Chris M
Sponsor Buddies:
Yard Fencing: Required
Click to View More Images.
Password: Ace
Photos by: Chris H.

Date Adopted: May 19, 2021
Ace came to GSRNE as an owner surrender, having been taken from one home, previously, due to neglect.  The family told us that in the home they had taken him from the poor boy was left alone in his crate for up to 15 hours at a time.  She said he was great with her children but seemed to be jealous of the other dogs in the home (they have two others and a cat). She was expecting another child soon,  and as hard as it was to give him up, she really felt that Ace would do better if he was the only dog in the home.
We placed Ace in a new foster home with a single man who had recently lost his male GSD and who had some experience with aggression from working with his previous dog. Because he works from home, we were happy that Ace would not need to be crated.  Ace is quite smart and energetic, but he can be obstinate at times and needs patience.  He is dog/cat-reactive and, as a result, can be a challenge at times on leash. He loves his Kong and other toys, car rides, walks, working on his 50′ lead during training.  In the 3 months that his foster Dad, Chris, has had him he has made huge progress with Ace.  He was told that Ace was originally kept in his crate for very long periods of time and no longer would go in the crate and would not be able to be crate trained. He has  kept one downstairs with the door taken off and the crate covered, and now Ace spends time in there as long as there is no door (baby steps).  Chris has worked on the separation anxiety and told us Ace does well in the house loose  now when he's home alone. He has worked on desensitizing the reactivity by using  treats, exposure to other dogs from a distance in a parking lots, at Petco or on a beach and will soon be working with a professional trainer.
Ace is a wonderful boy who needs consistency, more training, and someone who can continue to devote the time he needs to learn better habits.  He's a dog that needs more obedience training.  His reactivity on lead can be a challenge at times. Nevertheless, Chris has told us he has been a wonderful companion for these three months, and he will continue to work with him. He told us he truly cherishes Ace.  When he asked us if he could adopt him of course we said YES!