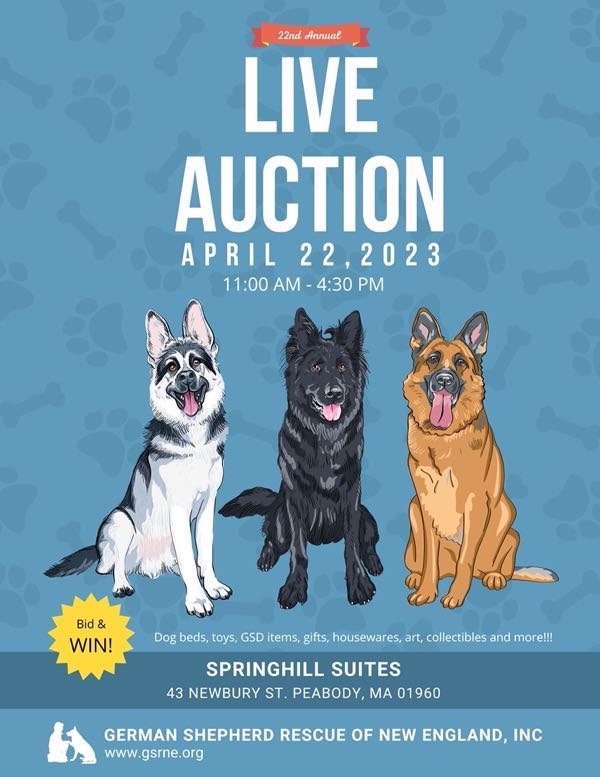 Save-the-Date: GSRNE Annual Auction
Check out this year's Live Auction Catalog! 
We are getting ready for Auction 2023, which will be held on Saturday, April 22rd at the Springhill Suites by Marriott, 43 Newbury St, Peabody, MA 01960. Springhill Suites is close to I-95 and I-93 with a comfortable venue and fantastic staff.
Our Annual Auction is open to the public, so we hope you share the word with friends and family and spend the day with us! We would love to have your help as we prepare for the big day! Donations for the Auction are needed, and we are asking our members for their support. German Shepherd statues, jewelry, signs, clothing, and just about all things GSD are always a huge hit. Bidders also like dog supplies, such as beds, cookie jars, bowls and toy/treat baskets. People things are fun too! From trips to trivets, we all like to treat ourselves as well as our wonderful GSDs.
If you're able to donate items, please use our Auction Donation form which is now available on our website, or you can email auction@gsrne.org if you have any questions. If you have something to mail for the auction, please do so by March 20th  Send donations with an Auction Donation form for each item to: GSRNE, P.O. Box 4063, Westford MA 01886. We also have volunteers in different states that will be acting as collection sites. Please email auction@gsrne.org for more details and locations.
If you would like to help with the event itself or the preparation for the auction, known as the Tagging Party, please contact auction@gsrne.org.
Click for information about advertising during the auction. Promote your business or your GSD.
Please save these dates:
Tagging Party – Saturday March 25th
Auction – Saturday April 22nd
Click to download a PDF of this year's poster
Need Directions to Springhill Suites by Marriott (our Auction Venue)? Go HERE!
Please also take a moment to check our our sponsor's for this year's auction, and show them some appreciation!