What items are we looking for? German Shepherd items of course! Statues, small rugs, throws, pillows, key chains, jewelry, GSD notepaper, cards, t-shirts and prints — just about anything goes as long as it is first quality and something that can be auctioned.
Dog-related items do very well and don't need to be German Shepherd specific. We are looking for dog bowls, cookie jars, leashes, collars, dog beds – all kinds of pet products! One-half to two-thirds of the auction items are pet specific and the good news is that if we receive too many of one type of item for the auction, they can be used for other events or even for our foster dogs. But we don't leave out people! We have seen beautiful vases, jewelry, collectible plates, and baskets of products that anyone can use. Sports memorabilia items are also very popular, as are any kind of electronics. Come and see which items raise the most this year!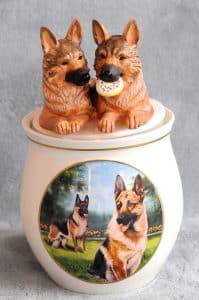 PLEASE complete a separate form for each item you donate. It really helps us to have the completed form at hand when we are preparing our Auction Catalog and your tax deductible donation receipt. There are three ways to donating items to us: 1. You can drop off items at the tagging party (due to Covid attendance is limited). 2. You can deliver them to one of our collection sites located throughout New England. Please email us at auction@gsrne.org for more information. 3. You can mail your items to: GSRNE, PO Box 4063, Westford, MA 01886.  It really helps if you include a brief description of your item or items and the value so that we get it right for the Auction Catalog and for your tax receipt.
Auction Catalog Advertising and Space Chart