Update 16 July 2019
Duke is a healthy, happy and large dog. His weight has settled in at 118 lbs.He eats 4 cups of food twice a day. Daily walks and lots of time in the yard playing with his favorite balls. Helen has always been alpha and our dogs through the years have all seemed attached to her. Duke decided to make me his alpha and is attached to my hip. Since Helen works from home and will be retiring next year much of Duke's time is spent with me since I'm retired. He is very loving to both of us. He's very protective of our home and property so when people visit we introduce in a calm friendly manner and after a few minutes of introduction and treats he accepts our friends and family completely. On walks he is friendly to strangers but prefers not to have other dogs around. We did take him to a 6 wk obedience school and had no problem with a room full of leashed dogs. He graduated with flying colors after passing all the command tests. Duke does have a high prey drive and since we have 6 parrots we had to gate the bird room. We have a Blue and Gold Macaw, Mikey, who has no love for Duke. Duke's feelings are mutual. They will occasionally yell at each other in their own voices. Can get quite LOUD. Many thanks to GSRNE for arranging our first meeting with Duke and his foster family. He is in his forever home and a pure joy for Helen and I.
Adopted: 3 November 2018
Bio
Duke is a handsome boy with a soft, shiny coat; he has long legs, strong shoulders and an alert look. He enjoys his daily walks around the neighborhood during the week and longer walks in the woods on weekends and has an extra spring in his step when exploring a new trail. He walks nicely on a loose leash and remains calm when other dogs pass by.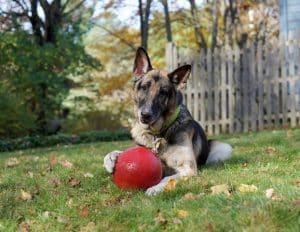 We don't know what his early years were like, but we were told by shelter personnel that his skin sores and ear infection were due to his living conditions before they took him in. They treated his health issues and gave him good care until he was ready to move on to foster care before finding his forever home.
Duke's foster Dad told us that he knew some commands but needed to brush up on manners; he would try begging at the table and would be mouthy when overly excited. With the help of our Training Director, Duke has learned to be good company and responds to directions. He doesn't beg, steal, chew or bark around the house and is a pleasure to live with.
He's very affectionate and will sometimes lean against the person who is petting him and then melt down to the floor, starting with his head and ending up on his side on top of your feet. He likes to be touched and is delighted when you pat his forehead or rub his ears or butt. If you gently rub his chest while he's laying down, he will relax and drift off to sleep.
He loves playing with toys and is excited to chase his Wubba toy when it is tossed for him. Rubber balls are also favorites, and he will show off his soccer skills if you try to dribble a ball around him or pass it to him. He enjoys his Nylabone too and really appreciates if you grip it for him so he can focus on chomping. He also knows how to play by himself when you have something else to do.
Duke likes to eat and, in addition to his meals, he is keen to receive snacks. You can fill his Tricky Treat ball with kibble and he knows how to roll it around and make it dispense the goodies. Or you can grab a handful of kibble, tell him to sit and then feed him one kibble at a time between thumb and forefinger. He will take them from you so tenderly that you may feel only his lips.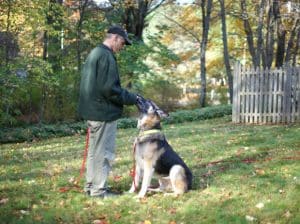 If you fill his Kong toy with kibble and head for his crate, Duke will jump right into it. He is used to staying in a crate when his people are at work, but he is not comfortable if a visitor comes in while he's crated. He can be brought into the room on leash once a visitor is seated, and he likes to get acquainted slowly.
Duke will thrive in a home where he can be involved with daily activities. He wants to be with his people and will follow you around during the day, lay down next to you in the evening while you watch TV and sleep in your bedroom at night. He's quite intelligent and will appreciate a routine that includes both indoor games and outdoor exercises and walks. He's a good companion in the car and will ride quietly when you're doing errands. He listens when you talk to him and learns your routines and habits quickly. Duke will respond well to someone who has German Shepherd experience and knows how to be a good leader!