Rest in peace Ramble.  Our deepest condolences to all who loved you…💙🐾
Last week we were informed that GSRNE'S Ramble has crossed the bridge.  This handsome boy was 12 years old and very much loved by his family.  They told us his GSRNE sister, Riley who has been with him since she was 4 months old misses him terribly.
Ramble had came from the South to a shelter in New England and had badly flea-bitten ears; at that time, he was 2 ½ or 3 years old.  The couple who adopted him from the south eventually had a baby and said that Ramble seemed to be upset by the baby's crying.  They felt it would be best to find him another home and got in touch with GSRNE.  During his time in foster care, Ramble has not acted nervous about any noises or activities and has shown no aggression toward dogs or people.
He found a young couple that was interested in adopting him and they went above and beyond with his training and socialization.  It wasn't before Ramble was thriving in his GSRNE forever home.  The couple went on to adopt a 4 month-old female puppy, Riley, from GSRNE and Ramble willingly accepted his new fur sister into his home. Eventually the family had 2 children that are now 2.5 and 1.5 and Ramble was wonderful around them and trusted.  Rest in Peace beautiful boy…💙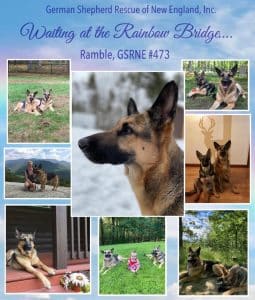 See Ramble's original bio page: https://gsrne.org/dog-bios/