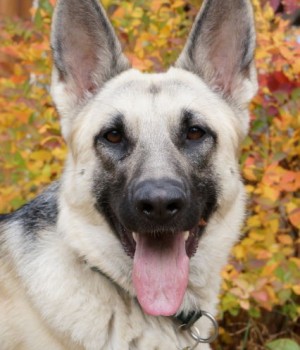 Ava has discovered that balls are fun to chase,

and

 that a leash is good, because when it gets attached she goes on adventures!
Ava also loves to learn new things because she has discovered she likes getting rewarded with treats too!
Her favorite trick is to ring a bell by the door when she wants to go out, and she does not hesitate to use it if she thinks we aren't paying attention! HA HA!
Ava has completed her intermediate obedience training! Wohoo!! It was a bit rough for her at first trying to control her fear.

A

lthough she is very bright, and already knew more commands that most of the other dogs in the class, they made her very nervous at first. We took it slow, kept her at a comfortable distance, and eventually she was able to concentrate on training. 
 Ava's original write-up:
Baby / Ava is one of the four dogs that we took in last spring. Her owner had some medical issues and needed to find a safe place for the dogs he loved but could no longer care for.
We knew that taking four dogs that were fearful and not socialized was going to require a commitment of time and a team of very special people to help each of them get ready for a new life. If you follow us here or on Facebook, you know that we recently celebrated the adoption of Holly and Mushroom, two of the dogs from that same home.
Baby is a beautiful girl. In fact her foster family asked if they could rename her, Ava, and we agreed that it was a perfect fit for her. Ava was just under a year when she came to GSRNE. She was afraid of just about everything. If you threw a ball to her to play with, she would head in the other direction. Her foster family has show amazing patience and unwavering devotion to helping her.
Ava's progress has been slow but each new accomplishment is cause for celebration. Her foster mom and dad have worked with her every day to help her to feel safe and more secure in the world around her. The bond between her foster family and Ava is very strong and we feel that she has found her forever home but we wanted to share her journey with you. We are all so very happy that we were able to help this sweet girl.