Adoption: DEC 15, 2015
Age at adoption: 1 year 7 months (DOB 5/15/14)
Update on 08/04/2019:
Tucker is doing great. He even has a new baby sister kitty. He sometimes
gets a little jealous but never tries to hurt her. We acclimated them slowly
& in stages. (Petey kitty passed a few yrs back, 19 + yrs old ):
Tucker did put on a few pounds, but w/ some reduced calories he's looking
pretty good. Even Dr Norelli is happy. Tucker takes good care of his family
& really is a joy.
Update on 08/05/2015:
Guess who graduat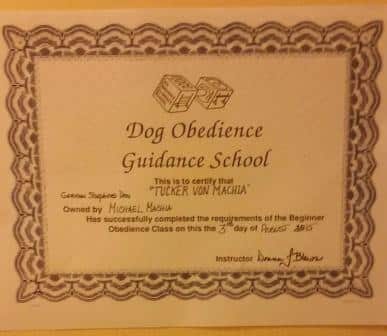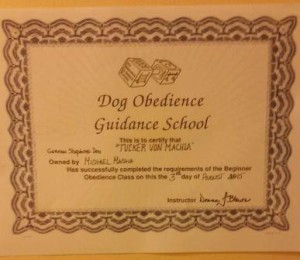 ed from Basic Obedience School last night? Tucker!!!!
His parents are very proud of him. They said that he did a great job and he will be starting the intermediate class next week. Wish you all the best, Tucker !!!!
Tucker's original Write-up:
Tucker is a one-year-old male who lived with someone who ran a child daycare business at her home, so he grew up around babies, toddlers, another dog and a cat.  His owner didn't take him out much, so he's a bit timid when first meeting someone.  Once he has a chance to warm up, though, he enjoys making new friends, human and canine.
In his foster home, Tucker lives with a 2-year-old male German Shepherd, a 3-year old female Beagle, and two cats, who he likes to chase.  He loves being outdoors and frequently plays with his foster brother, Baron.  They play chase games and tug-of-war, and Tucker enjoys playing fetch but will tease you when he brings the ball back.  He loves attention and affection and will curl up at his foster Dad's feet after a good play session.
He also enjoys going for walks or rides in the car.  A favorite destination is the nearby soft-serve ice cream place, where he gets a dog-sized serving of ice cream in a bowl with a dog biscuit on top.
Tucker is still learning good manners and will definitely need to attend an obedience class with his new person.  He is fed in his crate and will spend short periods of time in there when necessary; but his foster Dad is usually home, so he has not been crated for very long at a time.  He has a lot of energy and needs a home where he'll have a playmate, walks, training and lots of love.