Update on 09/02/2015:

Max goes to his Mom's work place with his four-legged buddy, Brownie, on Thursdays and usually the 2 other dogs (besides the french bulldog) are there for them to play with.  He is still about 70 lbs.  He hasn't gained much since after he has gone to his forever home because he is so active that anything he eats he burns off.
Biography
Max has a social personality and an energetic and happy disposition; but when he first arrived in his foster home, he seemed to be lost.  He had been boarded for two months by his previous owner, who traveled frequently and didn't really have time for a dog.  Fortunately, he decided to take Max to a reputable shelter to give him a chance for a better life.  The ACO contacted a GSRNE volunteer who was able to meet and evaluate Max and who urged us to move him to a foster home asap.  It took him a few days to get used to living in a home again, and he needed frequent trips outside to remind him where the "potty" was, but Max soon made the adjustment.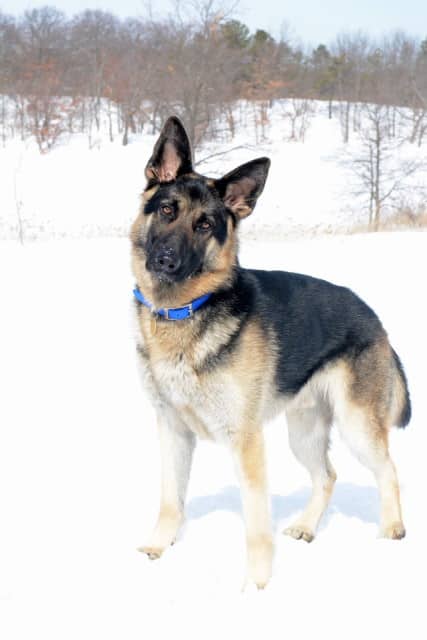 According to his foster family, Max just wants to please and loves being near you. He enjoys playing with the 30-pound female Hound/mix in the home, and he's learned not to chase the two cats; they don't want anything to do with either dog.
On occasion, Max goes to a doggie daycare, and he loves to run around with the other dogs there.  He also enjoys the snow and doesn't mind the cold weather; he'll go out and race around or jump the snow drifts, just having fun.  His adopter will have to make sure he gets enough daily exercise, so he'll be able to relax and just hang out in the evenings.  He also needs ongoing training and will enjoy going with you to regular obedience classes and, eventually, doing fun things like Agility, Nose Work and other activities that provide mental and physical activity.