adopted: November 1, 2014
Biography:
9/8/2014 Update: Happy news for Winston! He is now heartworm free and the surgery to remove his damaged eye went very well. Winston was neutered at the same time. He is recovered and ready for adoption. Winston is a loving boy who is looking for his forever home.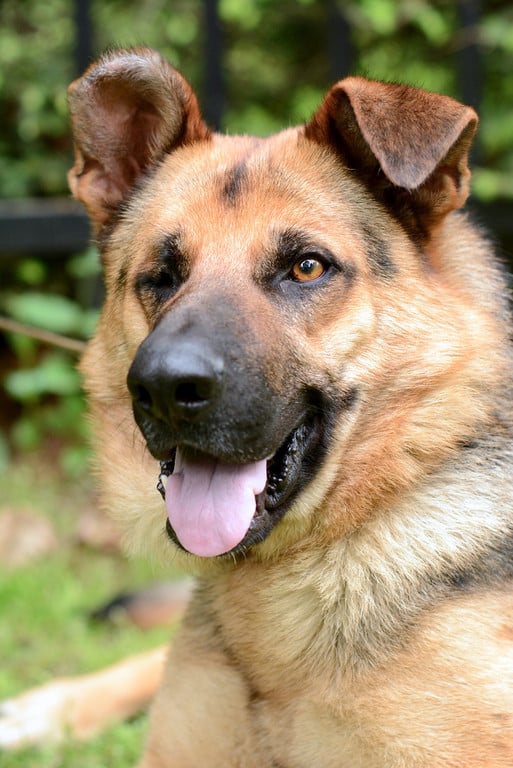 ---
Winston is a large, handsome, 4-5 year old (maybe younger) male GSD. He came into our program from another rescue that works with a different breed of dog and knew that GSRNE was the perfect rescue to help Winston find his forever home.
You have to meet Winston to fully appreciate how very special he is. He has a wonderful disposition and loves everyone – adults, children and other dogs. Winston didn't have a great start in life. One eye was damaged and he lost part of an ear. We don't know how that happened but we do know that he doesn't let it bother him a bit. He is a very social and affectionate boy and always seems to be truly happy – the kind of dog that makes you feel good just to be with him! He is also an energetic boy that loves to run, fetch, play and explore new things. Winston has to take it easy right now because he is being treated for heartworm but that hasn't dampened his spirit. He is as happy being relaxed by your side as he is racing after his ball. His heartworm treatment is being covered by GSRNE (about $1,700).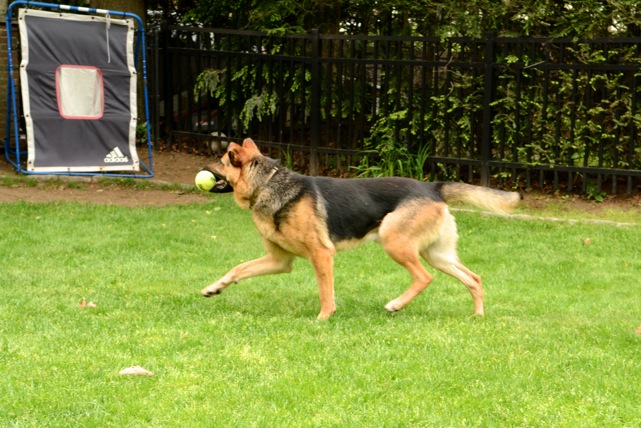 Winston is being fostered in a home with a female GSD, one human adult, and two male children. He is very social and affectionate. Winston loves to be by your side, will come lay at your feet and wants to be with you at all times. He still acts like an adolescent Shepherd and seems to still be growing and learning as a young dog would. With all that Winston has gone and is going through, this pup still has an excellent temperament. Nothing fazes this boy. Winston should be finished his heartworm treatment by the end of July and if all is clear, he will then have surgery to remove the damaged eye.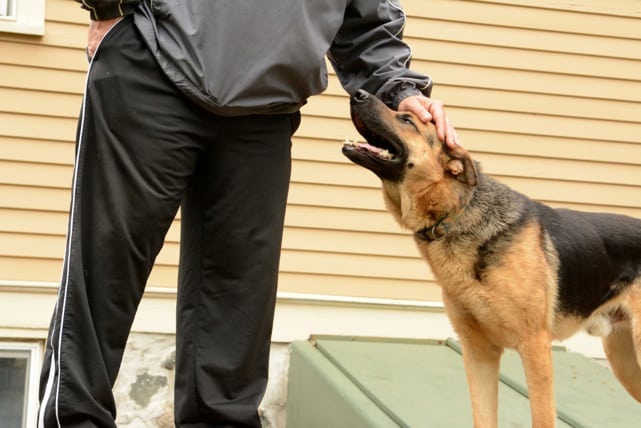 We are hoping that at the end of August when Winston is recovered from his surgery, he will be ready to go to an adoptive home. Winston will make a truly great family dog —in a home with children—with or without another dog. Since he is currently on limited activity, the foster home has been unable to work on his obedience training. While that means you and Winston will have some work to do, training can be a great bonding and rewarding experience. If you are committed to going to dog training and can handle a large, active loving pup, this is the dog for you!