adopted: November 22, 2014
re-named 'Leigha'
Biography:
The first thing you notice when you meet Leigh is that she is absolutely gorgeous! Her shiny coat is a rich black with a little tan on her legs. Her eyes are beautiful and when she looks at you, she will capture your heart.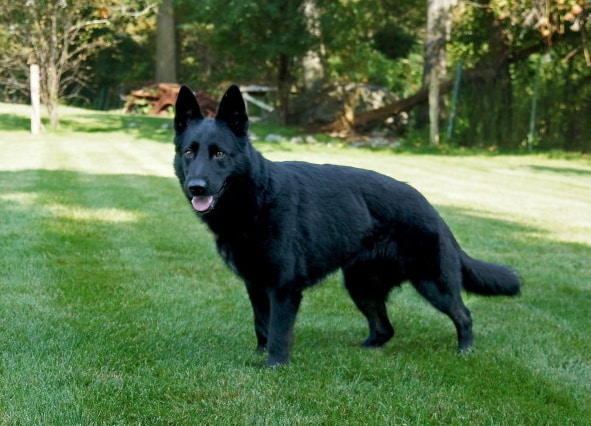 Leigh came to us from a shelter where she was turned in as a stray. Seeing how unhappy she was in a shelter environment (it can be noisy), they called GSRNE to see if we could find her the perfect home.
Leigh is approximately two years old. She is sweet and gentle – maybe even a little cautious around new people and things. She seems to be very comfortable with other dogs but shies away from cats. She would not do well with a reactive dog because she might not protect herself; she does know basic obedience and seems to enjoy learning.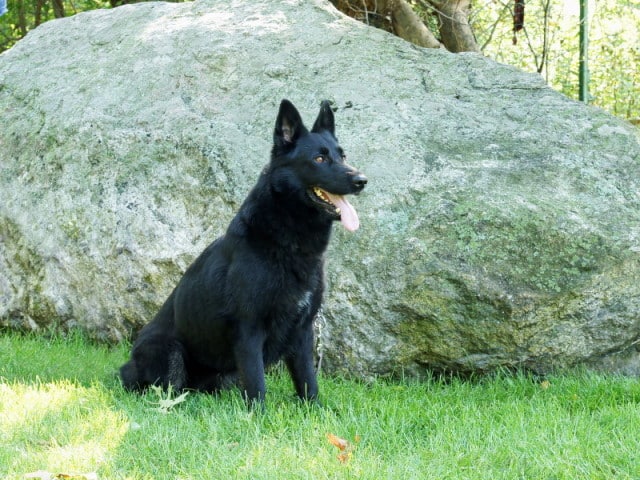 Her foster mom describes her as being like an old soul in a young body – she likes calm and quiet time with her person and will easily bond with you if you give her the stability and love that she craves. Leigh also has a playful side and enjoys chasing a ball as much as the next dog.
In the shelter she had so much anxiety that the vet prescribed Prozac to help her cope. Her first few days in a foster home were also stressful because everything was unfamiliar, but her foster mom knew exactly how to deal with her separation anxiety. She didn't give in to it, and Leigh learned very quickly that whining got her nothing while being a good girl had its rewards. Her adoptive family will need to reinforce this good behavior as Leigh is a smart girl who may try her old ways to get attention when she moves to a new environment. Her Prozac dosage is being reduced, and the expectation is that she will soon be off it completely.  Leigh can also leap tall buildings – well not tall buildings but she came close to getting over a 7' chain link enclosure. Once she feels safe and secure in her new home, that is not likely to be a temptation; but in the early days, she will need to be on a leash or long line when she is out with you in the fenced yard.
Because Leigh does have separation anxiety, she will do best in a home where she is not left alone all day. If you are retired or you work from your home, Leigh would consider your house to be the perfect place for her. She has learned that good things happen in her crate, and she is able to wait calmly when someone has to be out for a few hours.  Although she doesn't react to children, we think that a home without children would be a better fit because there would be less noise and confusion.
Leigh is a very gentle girl with a lot of love to give. She is looking for her special person and her forever home.  If you are that person, Leigh can't wait to share her life with you!