01/03/2015 Update:
Here is Magnum's update from his Dad-  "Our boy has had his first Christmas with us and merrily enjoyed opening his presents. He readily took to the tradition of tearing open his presents (with a little help from Mom). He's enjoying having both his Mom and Pop around more during vacation – I'm afraid he's getting spoiled.
Speaking of spoiled, he's definitely that… and well-deserving of lots of attention and scruffles. He enjoys his long walks and especially likes when Mom and Pop has a little extra time and take him on a nearby woods walk which leads to some ball fields where he can run and chase sticks and balls. He is fast and full of energy. He's funny, though, because although he doesn't want to quit, at some points he just plops to the ground for a short rest, guarding his ball carefully in the meantime.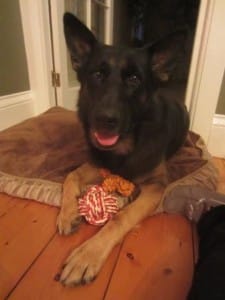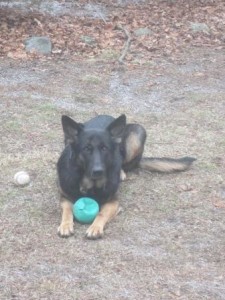 In the backyard, he has multitudes of toys and balls which he often corrals together and hovers over them jealously to be ready for anything! If I let him out by himself sometimes, he will mournfully sit next to one of his favorites and look longingly back at the house to see if anyone will come out and play with him.
In the house, he enjoys spending time in his "house" – his crate, but will come over (especially to Mom when she is working in her office or reading on the couch) every half an hour or so for his quota of hugs and attention. He gives great hugs and will lean into you very heavily or sit with his nose to the ceiling so that you will rub his chest and neck. He will stay that way for hours if you continue.
He still greets overenthusiastically (to put it mildly) and we are working on that. On leash, he also greets other pups vocally a bit vociferously. We're working on those behaviors. But he is such a lover, he melts your heart right away. He continues to watch tv intently and when there's a pup on the screen, he lets us know it… loudly.
He has quickly settled into our house and family and hearts. He is a sweet, sweet boy and very smart (with a stubborn side, of course!). We are very lucky that he padded and pranced and barreled into our lives and can't thank everyone at GSRNE for the gift of Magnum and all that you do. Thanks! We hope Magnum's life is full and happy, and we know ours is thanks to that goofy boy!"
10/19/2014 Update:
This what Magnum's dad has to say about Magnum:
Well, Magnum is officially part of the family! He's settling in very nicely and he seems quite happy in our home, as we are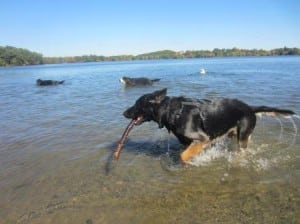 very happy to have him. He seems to be adjusting very well. He is very happy to see us when we come home and lets us know it in his peculiarly Magnum way. He's all wag when he's excited to see us and his tail becomes deadly – a weapon of mass destruction. Glassware, salt shakers, all manner of fragile doodads, are in deadly peril when that particular appendage is let loose. Magnum's greetings upon your return are his trademark. If we are gone for 5 hours… or 5 minutes… He acts like we've been gone for 5 days… or weeks! He bulls into you like he was afraid he'd never, ever see you again and now you've returned! Oh, happy days!
He wants to be with us at all times, especially at night where he will lay down in front of the couch at our feet and watch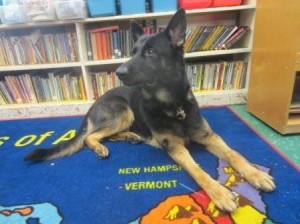 tv with us. He definitely watches tv. He stares intently at it often and if he sees anything even remotely resembling a dog – an elephant, monkey, dinosaur… whatever – he will bark like crazy after it. I haven't attempted to plug in the Rin Tin Tin dvd yet! When we are working or busy in another room, he often sleeps in his "house" but will come in every so often for a nuzzling and a "remember me? Do you by any chance want to go out in the backyard and play ball?" Balls and other such throwable toys are his obsession. My updates could consist mostly of "we played threw the ball again today" and while they might be boring for us, he would be delighted. We've tried some off leash walks in the woods (another favorite activity) and he does really well with that. He keeps us well in sight and always comes back when we call and even when we don't to check on us. We took him out on a great off-leash trail with a friend with a bunch of other dogs and he had a blast and got along very well with all. He was a pooped pup when we returned that night. We also found on that trip to our delight that he is a definite water dog and will fearlessly swim out to get a stick, ball, whatever!
Yesterday, Magnum accompanied his Pop for a Saturday work day at school where he met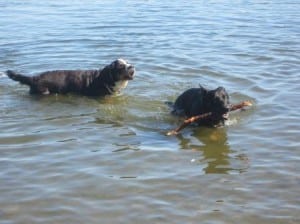 a few staff members and made a great impression. Not as much of a great impression at outdoor school fundraiser later in the day where he became a bit over-interested in a few other dog attendees and let the entire crowd know that with his vocalizations when he wasn't allowed to approach. Definitely something to work on when we start a training class. We're working on it at home and on walks now, as I would love to get him able to pass the therapy dog test. We have to work on greeting/ignoring other dogs and greeting people a little less enthusiastically.
All in all, though, we couldn't have asked for a sweeter boy. He's wonderful and gives love to all unconditionally and unflinchingly. He's getting loads of attention and deserves every bit of it. Can't wait to get multiple copies of the new calendar featuring him along with the other beautiful pups! Thanks again for everything and for allowing us to take this wonderful boy into our home!
Adopted on 9/18/2014
08/07/14 Update:  Magnum has had his final shot for his Heartworm treatment and is now ready for an adoptive home.  He will be starting dog obedience classes after the 26th with his foster home, if he is not adopted by then.
Biography
Magnum is a handsome, large, stocky, male GSD of 3 years.  He came to GSRNE from an owner-surrender situation.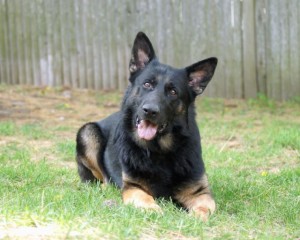 What can we say about Magnum?  Well he is a lover of people!  He can't get enough attention and LOVES strangers.  He wants to be with his person all the time.  He will lie at your feet, by your bed or the bathroom door.  He whines and cries in his crate when someone visits because he has to meet them.  When you let him out of the crate to meet a visitor, he has to be all over them; they have to touch him and he will whine in excitement as he is gets patted.  He looks up at you with those big eyes and it melts your heart.  He will turn over on his back to get belly rubs, and if you are standing up and talking to him, he will stand on his back legs so you can hug him and rub his chest and belly while standing—he will lean against you for support.  He is a very strong and powerful dog.  He is also a bull in a china shop—he is always wagging his tail and running around.  His tail hits everything it comes in contact with and it usually knocks the item over or across the room.  He has a very strong and thick tail.
His favorite things to do is go for a ride, a walk, play fetch with the tennis ball, chase his foster brothers and sister around,
chew on his Nylabone, or just hang out with you.  Magnum likes to do many things and is active, but if you sit down to watch TV, he will gladly come over and lie down at your feet until you get up.
He is a gem of a dog, but will need a strong handler.  He can be stubborn at times and will need someone that will be firm when needed.  Magnum will do best if he is the only dog in the home.  He wants to be the top dog and can be pushy.  He will take toys from the other dogs if not told otherwise.  He has learned the rules of his current foster home and is integrated into the home with the rest of the pack.  He will still try to be top dog, but the foster home lets him know he is not.  He gets along with the three other dogs in the home.
Magnum, AKA Mags or Maggadoodles, is a great Shepherd and deserves his own person or family where he can be the only dog in the home.  A home that will keep him active, take him to dog obedience training and let him hang out with them wherever they are or go.