Harmony
GSRNE #393
3/27/12 – 7/25/2019   
Click for more photos of Harmony
Password: Harmony
The GSRNE Family is heartbroken to announce that Harmony, GSRNE #393 crossed over the Rainbow Bridge this morning. All of us know only too well that the hardest part about owning a dog is having to say goodbye, and that goodbye often feels far too soon. Harmony's passing was totally unexpected–nobody saw this coming for this sweet dog.
Update on 06/19/2015
Harmony had her annual check-up and vaccine update today, which prompted me to look back through her folder to when she first came into GSRNE  when she was one year old (DOB is 3/27/12).  At that time Harmony weighed only 50.2 pounds; her coat was dull, and she had diarrhea in the kennel where we had to board her until a foster home became available.  Even once she was in a foster home, she had diarrhea off and on and gained weight slowly.  We had blood work done on 8-17-13 to find out whether she might have EPI (although her stools were not typical of that) or some condition that caused malabsorbtion of food.   We changed her food to Science Diet ID and added Fortiflora and Tylan Powder and put her on Metronidazole.
She was slowly improving in foster care and was there for many months with no one asking to adopt her.  When her foster Mom could no longer keep her, we had to move Harmony to the boarding kennel again, and she began to lose ground.  Eventually, I moved her to my house, intending to foster her until the right adopter found her.  Months went by, and Ted and I could see that Killian (who we adopted in 2010) really liked her; and he had never played nicely with another dog as far as we had seen.  We realized that Harmony had been found by the right adopter and made it official  on June 5, 2014.  She's still nervous around new people, but she'll hang out quietly in her crate while getting used to a visitor.  When she comes out, she doesn't want to be petted by the visitor but will go close enough to take a sniff and then move on.  Out in the fenced yard, she'll try to get Killian to chase her; but he's learned that she'll be around the barn and back before he could get close.  Instead, he'll pick up a Jolly Ball and wait for her to grab the other side for a game of tug.  In the house, she's very affectionate and will put her front half onto my lap, or Ted's, and push her head close for an ear rub.  I'm glad our rescue did whatever it took to save this sweet girl.
Adopted on 06/07/2014
Biography
When Harmony's owner surrendered her to a shelter, she was pretty fearful but would warm up slowly as she got to know her caretakers.  She enjoyed playing in a group of dogs and had lots of energy; but it became evident that her elbows would hurt afterwards.  An examination revealed the need for elbow surgery so that would not continue to happen.  Once GSRNE had a foster home available and agreed to take in Harmony, the surgery was performed and she was moved into a real home after four months at the shelter.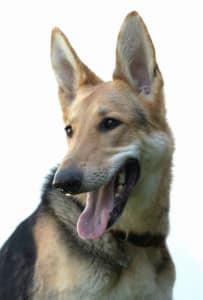 There were two other dogs in the foster home, and they helped Harmony to fit in and feel at ease.  She was on restricted activity while her elbows healed, and she grew to enjoy being handled and cuddled by her foster Mom and Dad.  Gradually, she was able to become more active and eventually was allowed to run and play the way she had been itching to do.  She loves to fetch a tennis ball and will run right back to you so you can throw it for her again.  Once she's comfortable with a new person, she'll show you her silly side and will wriggle and turn in circles during a good back rub.
Harmony needed gradual socialization around other people as she continued to learn that only good things will happen.  Attending a group obedience class helped her with that; she's quickly learnt new things and already knows basic commands plus how to touch your hand with her paw on request.  She does enjoy getting treats, and they help her focus on the task at hand.  She is ready to meet the adopter who will show her patience and love and help her become the happy, silly, fun-loving girl she was meant to be.
UPDATE 11/01/13:  We decided to do a DNA test on Harmony to see what she may be mixed with and found that she is 3/4 GSD and 1/4 Finnish Spitz.  An interesting combination for her, and this girl is very sweet, goofy, and always happy!