Adopted on 5/22/2014
UPDATE 09/05/13 – In Georgie's new foster home, she has bonded with both adults and the resident GSD. She is a dog that craves affection and her sweet eyes just melt your heart.  She is a dog that wants to please you.
Georgie is great with other dogs, but slow to initiate play.  She even likes cats, and if the cat is dog friendly, she will hang out with the cat.  She enjoys having a foster brother who she attends doggie day care with two to three times a week.  With the other dogs in doggie day care she introduces herself like a lady and appropriately and is slowly beginning to initiate interaction with them.
Georgie is working on new commands such as "wait" at the door before going out, "wait" in the car before jumping out, and learning to go from a sitting position to a down position.  She knows what to do, but can be stubborn and test you.  One thing being worked on is keeping her off the furniture.  She always tries to get up on the couch when you are not looking, but when told off she gets down.
With meeting new people outside the home, Georgie is still timid, but shows a great interest in checking them out.  She just needs to know they are okay and just want to be kind to her.  This is also true with people coming into the home.  She has that typical Shepherd trait to be on alert with people entering the home.  As done with most of the foster dogs, she is put in a secure place (like the crate or another room) and not positioned at the door when someone arrives.  She is very vocal with strangers coming into the home, but once the stranger is in the home, they ignore her and are introduced to her appropriately, she settles down.  Another typical Shepherd trait is being aware and alert of the activity in the neighborhood day and night.  Georgie will bark when she thinks she needs to let you know, but when told to quiet down or "enough" she will stop.
An ideal home for Georgie would be one where someone has patience as she can be sensitive.  A home that spends time with her whether it is hanging out watching TV, going on a walk, taking her to run errands, going for car rides, or playing in the yard.  The adoptive home should continue keeping her social with other dogs and people as has been done in her current foster home.  Georgie would do great in a home with a confident and tolerant male dog that would show her the ropes, but would also do well in a home without another dog.  Taking her to an obedience class would help her gain more confidence, trust and respect.  She desperately needs a person of her own.
If you think you have the time, patience and will continue her social and training skills by attending dog training classes, Georgie is the girl for you!
_____________________________________________________________________________________
UPDATE 07/28/13 – Unfortunately, Georgie's foster home had to find a new place to live and was unable to take her.  She is now in a new foster home with two adults and a male GSD.  Georgie is doing great and learning the routine of the home.
Biography
This black and red beauty is a German Shepherd mix with lots of love to give. At 5 years old she's housebroken and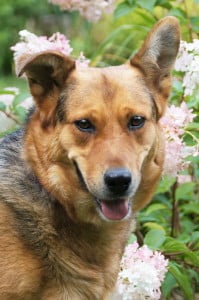 already knows her basic commands.
Georgie loves her toys and is overjoyed when she discovers something new to play with in her basket; if it makes noise, even better! When she's home she stays close to her foster mom, leaning against her for kisses. She loves attention and is eager to please. Often she can be found sleeping on her back with her feet in the air!
When someone new arrives Georgie can be timid and fearful. She barks and then retreats to a hiding spot in the back of the house. Once she knows it's safe she'll join the group and start to relax, although she still keeps a watchful eye on everyone. She wasn't socialized properly in her former home and is slowly learning.
Georgie is looking for a quiet home that will shower her with love and attention while helping her gain confidence.