Chloe
GSRNE #389
3/09/2007 – 3/24/2018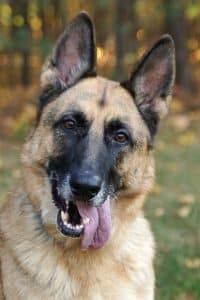 Click for more photos of Chloe
Password: Chloe
In April 2017 Chloe was diagnosed with two types of cancer and due to her age, her oncologist recommended palliative care. Her family told us that if you saw her, you would not believe that anything was wrong. She still enjoyed going outside to play and would shake her squeaky snake for attention. She had almost a year from the time of her diagnosis to enjoy with her loving family before she crossed the bridge in March 2018.
Her family tells us that their only consolation is the fact that Chloe had a very good life with them since they adopted her in 2014 and that she gave them a great deal of love.
Update on 04/28/2016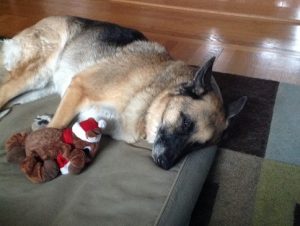 Sweet Chloe is trying to get some sleep after eating
Update on 07/29/2014
Chloe is doing very well. Chloe's parents no longer crate her! She knows that she will get a treat as soon as the door is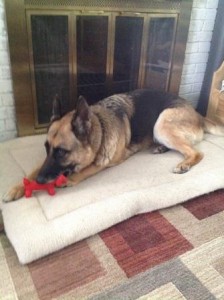 opened. She will have a lovely fenced yard. As for her medical, her last urine sample about 2 weeks ago showed no infection or crystals. She is off all the meds. If her test results are okay, Chloe's parents hope to transition her to real dog food!
Adopted on 04/15/2014
Biography
Chloe is a snuggly, friendly female German Shepherd Dog who just wants to be with everybody in the family! Though she can be very excited and jumpy when she meets new people, she's very friendly with your friends as well as with family.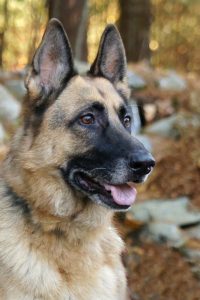 Chloe is a gorgeous black and tan, medium-sized girl. She loves to play, especially keep away or catch me if you can! She is learning that it can be fun to bring back toys, and enjoys a short game of fetch in the house each evening. Though she's 6 years old, Chloe is still very active. She goes for a two mile walk/jog every day, and would really prefer twice a day. She's an awesome jogging partner, running easily along with you; she never trips you up. If you are interested in agility, Chloe would love to learn that, too.
Chloe's got a keen mind and a great food drive so we've been using that to teach her new tricks. She's learning "leave it" when we put down her food dish and already knows basic obedience. She can be a bit pushy and needs someone that will continue her training to keep her intellectually stimulated. She tries very hard to please, and if you use reward based training she catches on quickly.
Chloe wants to be around you, playing with you, sitting with you and snuggling with you. She was given up along with Hank (see "Adoption News" in this issue) by her owners. The dogs were being left alone more than was healthy, and she had developed separation anxiety. Chloe panics when her people aren't home – perhaps from the amount of time she was left alone previously. If she sees you getting ready to leave, her panic builds, but we've managed this well with a routine that puts Chloe in another room for her breakfast where she can't see our morning routine or us leaving her. This has worked well, and her foster home can leave her for 4-6 hours at a time.
Chloe likes for somebody to assume clear leadership and confidence so that she doesn't feel abandoned or scared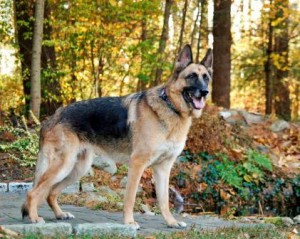 when the humans aren't home. When she first came into foster care, Chloe got nervous anytime anyone walked upstairs or out of her sight. Her foster family has worked with Chloe for awhile to help her feel ok when someone is leaving, and she's made amazing progress!