Look who is 2 today !!!!!! Logan enjoyed his steak once cooked on the grill and had a bone for dessert.
Adopted on 06/14/2013
Biography
Logan is a gorgeous, large, young, neutered, male GSD. He came into our program from a shelter asking for our help.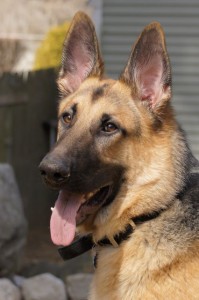 He was given up to the shelter by someone who doesn't know the breed or knows how to care for a young, very active and confused pup.
He is being fostered in a home with two human adults (no children), two older male Rottweilers, and one male GSD.
He is very smart and takes direction well, but he will test you. He has a lot of energy and needs to play, get walked and be mentally stimulated. In his foster home, he goes on three-mile walks, plays with his foster brothers in the back yard, plays fetch, goes on car rides and attends dog training classes once a week.
He is still a puppy and is learning how to be calm and obedient and not to always be so excitable. He greets people with a wagging tail and goes over to say hello them. He can get mouthy when overly excited, but give him a quick "Uh Uh" command and he will stop.
With most other dogs, he is engaging, friendly and very licky. He will also engage another dog in play with a play bow.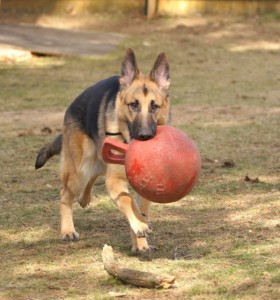 With one of his foster brothers, he wants to be top dog and plays a little too rough, so he may not be great with every dog, but behaves for his handler as long as the handler has good leadership skills and follows through to teach him how to play easy, or not to exhibit his rough behavior.
He is crate trained, potty trained (will even potty on command) and great on leash. Because he is still a puppy, his attention span is limited at times. For example, he would rather play with the tennis ball or other dogs than focus on his time to go potty. This is typical of such a young pup that is still learning.
The person or family who adopts Logan will need to be signed up for dog training with Logan after he has been with them the first week. He will need to continue his training in his new home to bond, trust and respect his new family.
Logan loves his tennis balls, Jolly Balls, Kong, and Nylabone. Although he enjoys playing fetch, he is still learning that he needs to give up the ball so someone can throw it for him. Sometimes he just wants to play "keep away" where he will bring you an item and wait until you try to touch it and then he runs with it.
He enjoys belly rubs and will drop and roll over for you a lot. Logan will also try to climb up into your lap while you are sitting on the couch, chair or recliner. He is being taught "off" and "no", but continues to try even though he knows he is not allowed…