Manny
GSRNE #364
2004 – 6/8/2018   
Click for more photos of Manny
Password: Manny
Dear old Manny passed away at the ripe old age of 13.5. He had hip problems and hearing loss, but he was still a happy boy. Six months ago, he was having problems passing stool and x-rays showed two tumors. His tumors grew very quickly, causing Manny a great deal of discomfort and pain, so his loving family made the difficult decision to let him go.
Manny's dad shared a nice memory about a bear that frequented their yard. Manny rarely ever barked, but he would follow that bear when he entered the yard, and both bear and Manny would watch each other.
Adopted on 1/26/2013
Biography:
Manny has had quite a few changes in his seven years, but he's managed to adjust each time and is eager to please;
he's food-motivated and enjoys doing obedience exercises for treats.
He came to GSRNE from a shelter, and we were told that his former owner had adopted him from there five years ago and was now losing her home to a foreclosure.  The reason he was turned in the first time was due to the owner's homeowner insurance being canceled because she had a German Shepherd dog.  Sadly, the people didn't check around for another insurance company.
At one point, Manny lived with 6 children, ages 8-16; and with 2 cats and a Pomeranian, so he's had a variety of social experiences.
Initially, in foster care, he would race around the fenced yard as though he didn't know what to do with himself; his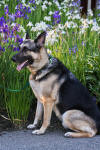 foster Mom called it having the "Zoomies." He would charge at the fence when the neighbor's dogs were out in their yard barking at him, but can walk past other dogs on leash as long as those dogs are under control.  Manny is constantly learning new words and commands, and he has let us know that he really likes chewing on a bully stick or a marrow bone or playing with a stuffed toy.  When he was given a Kong stuffed with peanut butter, though, he did not show much interest.
Mostly, Manny likes doing things with his humans and is not interested in having another dog for a playmate.  If you're looking for an active guy who will find you more interesting than anything else in his world, he may be the one you're looking for!