Ringo
GSRNE #354
3/7/2006 – 10/24/2015   
Ringo #354 has crossed the Bridge. Ringo was adopted in August 2012, when he was six years old. Ringo was a challenging dog, and his adoptive family worked with a trainer and stepped up their leadership. Their hard work paid off, and eventually he became the pack member he was meant to be. Last year Ringo began developing health problems, and his family did everything possible to help him cope. Ringo was beloved by his family, and he is sorely missed. Rest in peace, old boy.
Adoption: August 4, 2012
Biography:
Ringo is a gentle, friendly, six-year old boy that likes to be at your side and wants to be part of your every day activities.
Ringo was surrendered to a shelter after a divorce. The husband couldn't take him and the wife thought he'd be too much for her and the kids. They had him since he was a puppy. During the day he was kept outside and brought into the house at night. He's a sweet and loving dog, but didn't receive the added training and guidance a dog needs.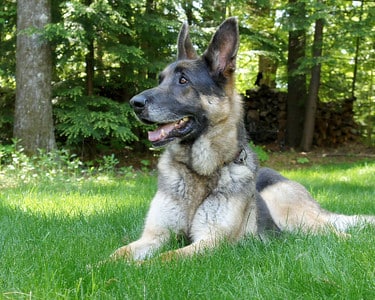 When he first arrived at his foster home he was nervous and unsure. Slowly, he learned what was expected of him. He became more comfortable and started showing his sweet and gentle disposition. He showed some signs of separation anxiety in the beginning, but has adjusted well after settling into a routine.
He craves affection and is happiest when he's with his family. He loves going for walks in the woods on a long line and finds chasing chipmunks just delightful. His ability to hunt down a chipmunk in the woods is one of his greatest talents! After a walk, he's happy to settle down next to you in the house.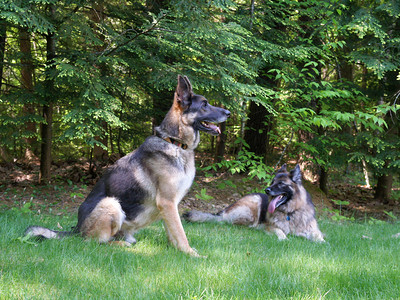 Ringo gets along well with other dogs and is friendly when meeting strangers. He tends to be a follower and looks to his foster sister or his human for guidance. He's aware of his surroundings and will alert you if he hears a noise or if something is out of place. He loves being around children and has been around kids from 2-15 years old. He doesn't seem to mind the commotion that a group of children can make, and seems fine with sharing his house with them.
If you're looking for a medium to low key dog to be a part of your every day life then Ringo might be the dog for you!