Champ
GSRNE #287
2007 – 1/6/2017
(Adopted in March 2010) 
It is with great sadness and a heavy heart that I tell you that we said goodbye to Champ yesterday. His condition with DM had continued to deteriorate since June. The last few weeks, we knew we were nearing the end as we noticed Champ's condition changing, and we knew it was time. He is at peace now.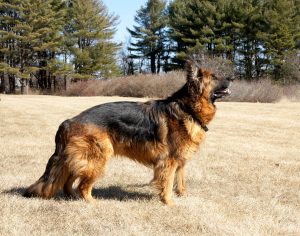 We have been blessed to share Champ's journey over this last 6+ years of his life, and to be able to give him the life he so deserved after being rescued from the streets of Chelmsford, MA. We have also been blessed to have come to know so many wonderful folks through GSRNE and become part of the stories that give all of us hope for these wonderful dogs that we all love. We know Champ touched so many lives as he did ours throughout his journey.
Carol & Mark