Sterling
GSRNE #157
? – 8/29/2015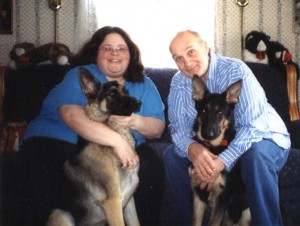 Rest in peace, dear Sterling. You attended so many GSRNE events with your mom, dad, and faithful GSD sister Luna, who was waiting for you at the Bridge. You will be missed by all who had the pleasure of meeting you.
——————————————————————————————————————————————————————————
Sterling, pictured on the right, is just a wonderful puppy and we love having him and his big sister Luna. 

They get along great and are always together.
Sterling is now almost done with basic obedience with just one day left and then he will graduate and we will go on to Intermediate classes. We have been working with him along with working with Luna, who is all done with the obedience classes. Because of this, Sterling is ahead of his class and the instructor sometimes has Sterling and I demonstrate a command.
He is very smart and catches on to things very quickly! He is very good when company comes, he will greet them then lay down beside his Daddy or me for the remainder of their visit. He loves to go for rides, and he and Luna will get into the back seat and lay down or sit. We would like to thank his foster parents, Joe and Deb for the great job they did with him during time that they had Sterling. He is just a great little boy 62 lbs now. We can't wait to show him off at one of the GSRNE upcoming events!