Eire
GSRNE #149
? – 1/14/2006
Eire came into my life in the summer of 03. Jenna, my former GSD, had passed away in the spring of liver cancer. We had 10 years together. It hurt bad to lose her. Eire was left tied to the fence of a GSD breeder, with a note asking for someone to take care of her. She was well cared for, so you have to wonder why someone would do that.
Janice Ritter brought her to me for foster care. Within a week, we both knew it was for keeps. Eire fit in like an old pair of Levis, and made fast friends with Taz the orange tiger cat.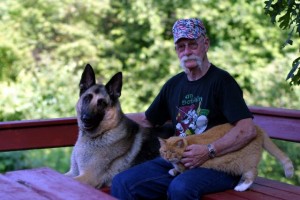 There is a steep hill in my backyard. Eire would walk up to the top and roll over on her back and slide down all summer and fall. Winter came with snow and ice. The weekend after the first storm Eire climbed the hill, rolled over and shot down like a train! The look on her face was worth a million bucks! She did wait until spring to do any more hill sliding.
In the winter of 2005, Eire began having trouble walking. A trip to the vet and 6 x-rays later, we found arthritis and severe Spondylitis in the spine. She was put on Rimadyl and Glyco-flex III. The drugs helped for a while, but she became less mobile as time passed. Saturday 1-14-06, she could no longer walk. Another trip to the vet and I knew it would be for good.
As I held her head and looked in her eyes the last words she heard was "I love you, I love you," and she was gone.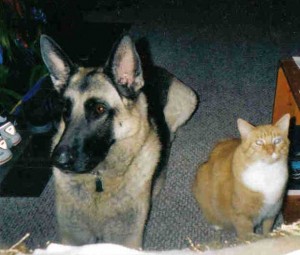 Arrangements were made for cremation. I had a private viewing and said a final goodbye and watched her being placed in the crematory. Two and a half years is not a lot of time: I wish we had more. The hurt is no less for a shorter time together. This summer I buried her remains in the yard next to Jenna.
Birthday-unknown to passing 1-14-06 Foster sister to Rommel and Rocky. Buddy to Taz (Eire would groom and wash him like a puppy). Best Friend to me.
Blue Skies
To Eire
Danny Thompson 1-20-2006