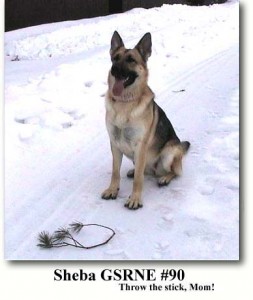 Sheba was turned into GSRNE from an all breed rescue that didn't focus on GSD's. Sheba had suffered horrific abuse and needed someone to trust and teach her about the world. When she arrived, she was full of fear and distrust.

Sheba was placed into a special foster home that was used to dealing with behavioral problems and issues. In time, using love and tenderness, Sheba learned about rules and how to "win". She was able to romp with other dogs and take her time learning about humans.
Sheba now lives in a wonderful home where she is doted on. She is obedience trained and loves her cat friends. She will never have to suffer again.
Update:
Sheba and I celebrated our tenth anniversary together in 2010, and it's truly been a "happy tail." Others had written her off as not savable, but GSRNE did their miracles and turned Sheba's life around.
In December 1999, she was found on the street in Massachusetts–young, very frightened, and badly abused. Her paws were covered with blood, and her face, according to the Animal Control Officer, "looked like raw hamburger meat." The pound had no funds to treat her for her injuries. Another rescue stepped in and had Sheba (as the ACO named her) transferred to the vet. The vet thought she might be an escapee from a backyard breeder who kept her dogs locked in rabbit cages. Sheba was clearly unsocialized with people. She recovered quickly physically, but her behavior issues meant she could not be placed. People frightened her, and any change in her environment paralyzed her with fear.
GSRNE stepped in and found a foster home willing to take on a "project dog" (a dog that requires a lot of work to be adoptable). I adopted her a few months later in July 2000. I had years of German Shepherd experience, but Sheba demanded new skills and tremendous patience. I had to learn an entirely new body language. Using Turid Rugaas' "Calming Signals," I was gradually able to rehabilitate Sheba. A quiet life here in Vermont was just what she needed.
People who see her today would never believe how she started out. Sheba is now the calm, stable dog in the pack. She holds office hours with me on campus, and the students love her. She visits the nursing home where my mother lives, and has her own fan club there. She's always been a dream in the house, and gets along great with the cats who have shared her space.

Sheba is one of the most affectionate GSDs I've seen. Right from the start, when everything else scared her, the bed was a safe place. She would jump up beside me and bury her nose under my arm. We start every morning with "bed cuddles" and spooning. I'm lucky enough to work at home about half time, and she's always by my side. Every day we walk in the woods, off leash on my twenty acres, and Sheba gets to swim in rivers and splash in the beaver pond next door. She's a happy, happy girl.
I've been blessed to have Sheba in my life, and I'll always be grateful to GSRNE for giving her the chance that brought her to me.
Reina Pennington