Saber
GSRNE #008
1992? – 02/27/2003
Saber was my very special boy- I loved him from the moment I first saw him in the window of his GSRNE foster home.  We had a wonderful, too short, six years together; he was about six when he came to live with us.  We could have called him Velcro, had we been naming him ourselves. When he first was adopted by us, he wouldn't leave my side, even when I was in the bathtub!  He was FAT when we first got him (maybe thirty-five pounds over normal weight) and awkward as anything.  After a year or so, he was sleek and beautiful and always ready to please.  We were seldom separated; he stayed with my friend Sue a few times,  for special things like my daughter's college graduation.  Otherwise, he came with us everywhere.
At Janice Ritter's suggestion, we took him to obedience training at New England dog training club for a six week session.  Saber and I loved it, and we went almost every Thursday night for those six years.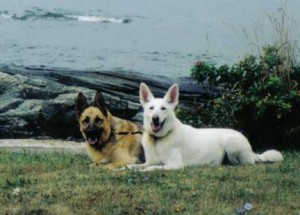 We had told Janice we wanted a quiet dog who would be content with our inactive life style for 10 hours a day, and ready to run on the 11th hour, and she found us Saber, who was the perfect match.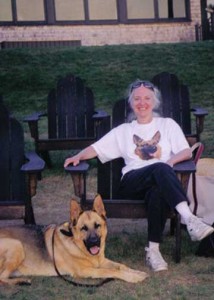 He had many loves – travel in the car, coming on errands with me, walking down the aisles at Staples while I pushed the cart, playing with tennis balls, eating, obedience training, other dogs, special time on the bed with us at night, our daughter Ninian, riding in elevators, meeting my clients, having company when he could stay with us, night time treats, etc.  I was never sure how much he loved his adopted sister Abby (GSRNE# 80);  as she was the boss over him, little white tomboy that she is, and she certainly changed his life.  For one thing, she ran faster than he would left to his own devices, but he loped along after her.  She charged at squirrels, where Saber's style would be to stalk them.  Abby put some pizzaz into his life; he was happily turning very sedate as he hit seven years old.  Her energy pulled him along with her.  (Abby was very sad when he died and took months to recover.)
He was devoted to me in a way I never had before in all my dogs, constantly at my side or at least checking to see where I was when he was running ahead, when he could still run.  He was pretty terrific in the obedience ring, and earned a number of ribbons to show for it.  He had both his CD and his CGC but had to quit going for his next title when his arthritis got too bad to jump.  My favorite show was a German Shepherd show in Central New England in a beautiful country setting, where all the shepherds were lined up in a down stay, and one by one, they got up and broke it, all ten or so of them, until Saber was the only one left in the down stay.  For this, he got his big blue ribbon.
A wonderful, much beloved dog, my "love-bug."