Lacy
One of GSRNE's wonderful foster dogs died of bloat before adoption
1996? – 9/21/2004
I have some very sad news about our Lacy. We lost her to bloat this week. Lacy's Foster Mom came home from work only to find that Lacy had died during the day. Bloat strikes quickly and mercilessly. There is no chance of saving the dog unless you are right there when the symptoms appear. Without immediate intervention and surgery, bloated dogs just don't make it. Often times, the dogs are gone before you can even get them to the emergency vet. So many  people will be disappointed that Lacy's shining spirit has moved on. But she will leave a beautiful glow of memory in our hearts. We love you, Lacy.
We are shedding many tears and grieving for Lacy. It has been devastating for all of us who knew Lacy, but none so much as her Foster Moms. Our foster families fall in love with their rescue dogs as if they were their own. We know our foster parents are true heros to be willing to sacrifice time and energy, and to change their normal routines all to freely give care, love and structure to needy dogs. They do all this hoping that there will be a happy (albeit bittersweet) day when their foster dog will go to their well-matched adoptive family- those special people who spark that magic connection with the rescue dog.
Foster families all know that they risk heartache when they take an unknown German Shepherd Dog into their homes. But it is so very hard on the rare occasion when that heartache hits. Our only comfort is that Lacy did not die alone and unwanted in a shelter.
Abandoned, she was picked up as a stray and spent over 4 months in the scary shelter. Every month that went by caused Lacy to get more and more frantic. She started barking for attention whenever someone would see her or pass her kennel. Nobody wanted to adopt an older German Shepherd who barked at you when you approached her cage. The shelter contacted GSRNE because they were running out of room and knew that Lacy had to go, one way or the other.
When we evaluated Lacy, she was a dream girl, a sweet, sweet dog who just needed to be in a better environment. Our evaluator saw her with mobs of kids, even being gentle with one who threw her arms around Lacy and hugged her. In spite our already having a number of older dogs and dogs with health problems in foster care, we could not see letting such a lovely girl be euthanized because she was unwanted. We were lucky to have just the right foster home complete with a new set of kitties who shared mutual adoration with Lacy.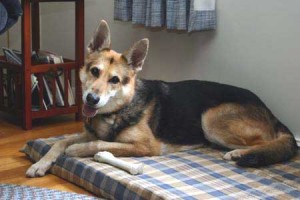 Within days of Lacy moving into her new foster home, all the barky, unsettled behavior disappeared and her true self started to appear. Lacy's Foster Moms really saw her blossom, relaxing into an affectionate, happy girl.
We just posted our Lacy girl with the big brown eyes for adoption last weekend. We've already had six families inquire about adopting her. So many people will be disappointed that Lacy's shining spirit has moved on. But she will leave a beautiful glow of memory in our hearts. All of us at GSRNE send our deepest sympathy to Bobbi and Becky, Lacy's Foster Moms, and to those of you who already fell in love with Lacy through her pictures and hoped to share the rest of her life with your family.
Victoria
GSRNE Foster Home Coordinator
Copyright © Jim Willis 2002,
http://www.crean.com/jimwillis/
all rights reserved
So this is where we part, My Friend,
and you'll run on, around the bend,
gone from sight, but not from mind,
new pleasures there you'll surely find.
I will go on, I'll find the strength,
life measures quality, not its length.
One long embrace before you leave,
share one last look, before I grieve.
There are others, that much is true,
but they be they, and they aren't you.
And I, fair, impartial, or so I thought,
will remember well all you've taught.
Your place I'll hold, you will be missed,
the fur I stroked, the nose I kissed.
And as you journey to your final rest,
take with you this…I loved you best.
(used with permission of the author)