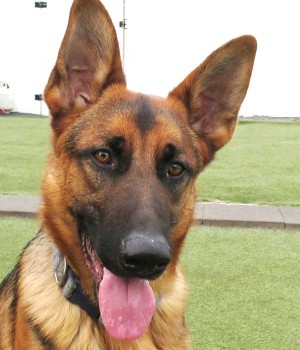 Status: In Training
Age: 1 year (11/2021)
Size: Large
Color: Black and Tan
Sex: Male
Activity level: Medium to High
Good with other dogs: Yes
Good with cats: unknown
Foster parents: David K
Sponsor Buddies:
Yard Fencing: Required
Photos by:

Koda is a lively 1 year old male who has a zest for whatever new challenge or training exercise each new day brings.  He's bright eyed, happy, and social.  He's a friendly dog, very food motivated, and always eager to please.  
Koda was surrendered to a local trainer when his owner was moving and couldn't take Koda with him.  The trainer quickly found that Koda is a high drive dog and that energy was not being channeled into anything productive.  While good natured, Koda lacked manners and structure.  Over the next several months, he worked with Koda on basic obedience as well as self control.  He introduced Koda to the dog pack at his daycare facility and exposed him to the world at large taking him to places like Home Depot.  Koda took to training well and has made tremendous progresses.  Now that he is ready, his trainer asked if we could bring Koda into our program to help find him a new home.  We were honored to say yes to this special boy.  
Koda will make a great companion for a German Shepherd savvy person or family (no young children) with an active lifestyle.  His family must be committed to providing structure and continuing Koda's training.  That person/family will be rewarded with years of loyalty and adventures.